2016 Summer Discovery Cruises offer new ways to learn about the Great Lakes
New educational cruises are planned this summer on Lake St. Clair and Lake Erie. Learn about the Great Lakes by being on the Great Lakes.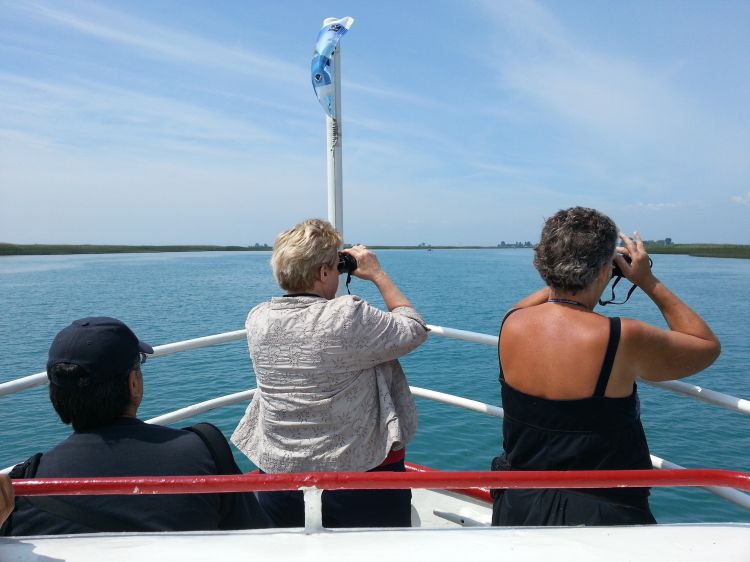 Registration for the 2016 Summer Discovery Cruises season is open! Looking for a way to learn more about the Great Lakes – and you want to be on the water? Then these cruises are for you. Join the more than 16,000 people from throughout Michigan (and beyond) who have experienced Lake St. Clair, the Detroit River, and Lake Erie aboard our schoolship.
Summer Discovery Cruises are an enjoyable way for the whole family (ages 6 and up) to have fun while becoming more informed about our Great Lakes.
Whether you are interested in lighthouses, shipping and shipwrecks, or fish, wetlands and waterfowl, you'll find cruises that match your interests – there are more than 20 to choose from! This year we've added four new cruises including "Research and Restoration," "Birds of the Wetlands," "Channels, Islands, Bays and Reefs" (all on Lake St. Clair) and "Michigan Mysteries" (on Lake Erie).
And of course many favorite cruises from previous seasons will be offered, so you can still explore the Great Lakes fishery (including the lake sturgeon – the largest fish in the Great Lakes), the use of Remotely Operated Vehicles (ROVs), coastal wetlands, Great Lakes lighthouses, Bob-lo Island, the Great Lakes' influence on weather, how teachers can use Great Lakes science in the classroom, aquatic invasive species, and much more.
Summer Discovery Cruises were developed in 2002 at the urging of teachers and adult chaperones who had participated in our Great Lakes Education Program, which offers schools a way to have their students learn more about the Great Lakes through classroom curriculum lessons and a day on the water. Summer Discovery Cruises are a collaborative effort between Michigan State University Extension, Michigan Sea Grant, the Huron-Clinton Metroparks, the National Oceanic and Atmospheric Administration, and a number of program partners, including DTE Energy, Michigan DNR, the Detroit River International Wildlife Refuge, and the National Weather Service.
The cruises are fun, but they also enhance Great Lakes literacy and stewardship on the part of participants. Data from our 2015 evaluations show that 93 percent of participants felt a greater responsibility for the Great Lakes following their Summer Discovery Cruises experience, 75 percent sought more information on Great Lakes topics of interest, and 27 percent engaged in new Great Lakes stewardship activities.
The 2016 season begins June 28, and registration is open for both individuals and groups. For more information or to register, go to www.discoverycruises.org. And be sure to check out other opportunities MSU Extension and Michigan Sea Grant offer to learn more about our Great Lakes.
Michigan Sea Grant helps to foster economic growth and protect Michigan's coastal, Great Lakes resources through education, research and outreach. A collaborative effort of the University of Michigan and Michigan State University and its MSU Extension, Michigan Sea Grant is part of the NOAA-National Sea Grant network of 33 university-based programs.
You Might Also Be Interested In