2016 Great Lakes Hop and Barley Conference
Save the date for MSU Extension's premier craft beer supply conference March 16-17, 2016.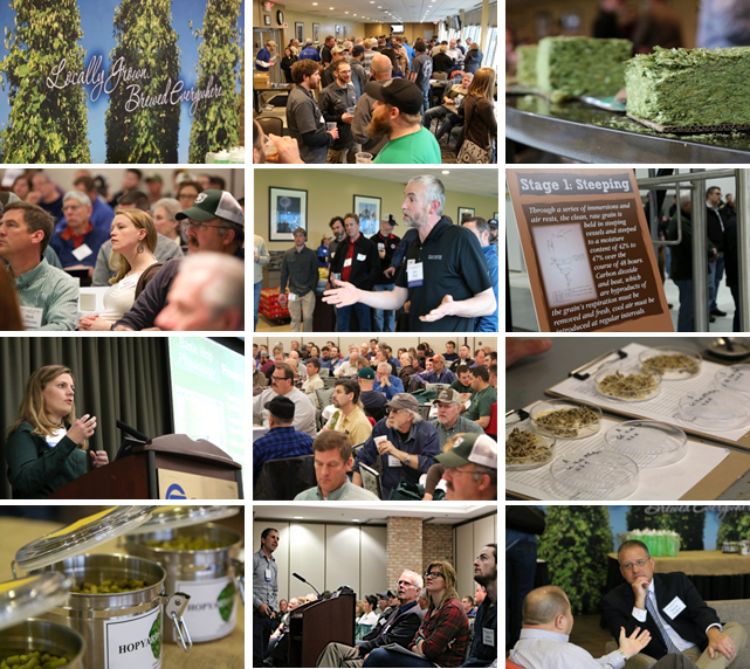 Michigan State University Extension and the Michigan Brewers Guild are pleased to announce the 2016 Great Lakes Hop and Barley Conference! The conference will take place at the Grand Traverse Resort and Spa in Traverse City, MI March 16-17, 2016.
Thanks to program partners and many sponsors, the 2015 Great Lakes Hop and Barley Conference was attended by over 350 participants from forty-four Michigan Counties, eleven states, and Canada. It featured three tracks for attendees, introductory hops, advanced hops, and barley/malting, as well as production facility tours, and a brewer and grower mixer.
Since that time, there has been incredible growth and investment in hop and barley production as well as the craft beer sector. Michigan is the fourth in production of hops after Washington, Oregon, and Idaho and acreage and investment continue to expand. Similar growth has been realized in the barley and malting industries, with many new farmers planting barley in 2015 and threefold growth in the number of malt processors in the state. Just as the industry has grown, the 2016 conference will build upon the 2015 conference. In addition to nationally and internationally recognized hop and barley speakers, the conference will feature large equipment and a trade show, and perhaps even a tour of a new hop yard and production facility.

One of the main foci of the 2015 Great Lakes Hop and Barley Conference was hop and barley "quality". Several speakers including brewers, growers, brokers, and the president of the Hop Growers of Michigan, emphasized the importance producing quality raw materials. Producing quality raw materials begins in the field but doesn't end there. A concerted effort needs to be made throughout these raw material value chains. We will expand upon this theme in 2016. Other conference sessions will include: industry outlook, market potential, best production practices, drying and processing, and marketing and sales – for both hop and barley crops.
The 2016 Great Lakes Hop and Barley conference will be the major craft beer supply conference of the year. If you are a farmer interested in growing hops or barley or a brewer wanting to learn more about purchasing Michigan grown products, you do not want to miss this event.
For more information on hops including presentations from the 2015 Great Lakes Hop and Barley Conference please visit our website for updates and forthcoming registration information.