2017 Great Lakes Hop & Barley Conference sponsor and vendor reservations are now being accepted
Sign up soon, only a limited number of sponsorships and vendor spaces are available.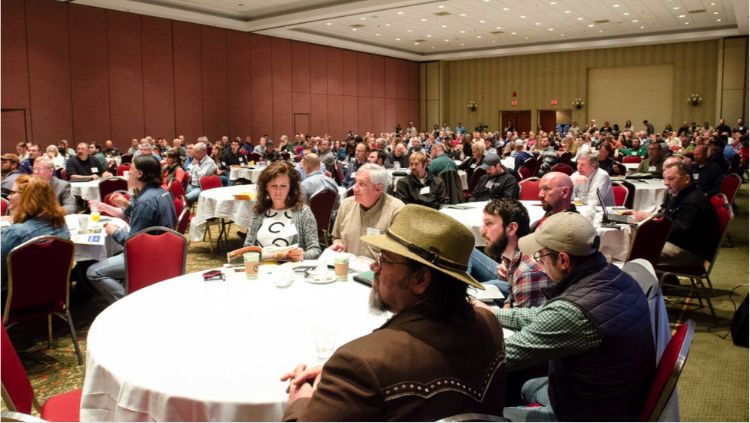 Michigan State University Extension and the Michigan Brewers Guild are pleased to announce the 3rd annual Great Lakes Hop and Barley Conference vendor and sponsor page is now open! The conference will take place at the Westin Book Cadillac Hotel in Detroit, MI, March 2-3, 2017.
Thanks to program partners and many sponsors, the 2015 and 2016 Great Lakes Hop and Barley Conference were extremely successful with hundreds of participants from 44 Michigan Counties, 11 states, and several countries as well. The 2017 Great Lakes Hop and Barley conference will be the major craft beer supply conference of the year. If you are a farmer interested in growing hops or barley or a brewer wanting to learn more about purchasing Michigan-grown products, you do not want to miss this event. The conference will feature separate basic and advanced sessions for hop growers as well as a barley and malting session that is designed for both growers and brewers.
Prominent industry experts from around the country will be on hand to discuss all aspects of the hop and barley raw material supply chains, from best production practices to processing, sales, and brewing. Some of the featured speakers include: John Mallet (Bells Brewery), Kevin Riehl (RR Hop Ranch and President of Hop Growers of America), Dr. Val Peacock (Hop Solutions/Hop Quality Group), Dr. Rick Boydston (USDA ARS/WSU), Dr. Mary Hausbeck (MSU), Drs. Chris Ridout & Sarah DeVos (John Innes Centre, United Kingdom), Steve 'Bert' Berthel (New Holland Brewery), Dr. Rich Horseley (North Dakota State University), Andrea and Christian Stanley (Valley Malt), multiple producer panels, and much more. The 2017 conference will also feature a brewer/grower networking session with a focus on hop and malt barley quality. The session will provide growers with a better idea of quality requirements and help align the supply of Michigan grown hops and malt barley with brewer needs.
If you are interested in sponsoring the 2017 conference, please see the conference sponsorship packet. Sponsorship opportunities, such as advertisement placement, will be determined on a first come first serve basis. To sign up as a sponsor please visit the Conference registration website.
Based on tremendous interest from the 2016 tradeshow, we are also pleased to once again offer a trade and equipment show at the 2017 conference once again. Vendors can sign up for a six-foot table space and for equipment space as well. Vendor space is limited and will also be offered on a first come first serve basis. For those interested in signing up for the trade show as a vendor, please register online.

For more information on hops and barley, please visit the Michigan State University Extension hops site or the Michigan State University Extension Barley site. Please check back often for participant registration information as well.
Location
Westin Book Cadillac Hotel
1114 Washington Blvd
Detroit, MI 48226
Participant Registration- Coming soon!
Once plans are finalized, we will open participant registration for the 2017 event. It will be open no later than January 2017.
Sponsorship and Vendors
Companies interested in sponsoring the 2017 Great Lakes Hop and Barley Conference can learn more by viewing our sponsor/vendor packet. The conference will once again include a vendor show.

For more information about sponsorship, having a display at the event or to discuss payment options, please contact Betsy Braid at 517-884-7081 or braidbet@msu.edu. To sign up as a sponsor, scroll down to the green Sponsors and Vendors Register Here button.
Cancellation Policy
After February 1, 2017, cancellations will no longer be accepted.