2017 Michigan 4-H/FFA Livestock Judging Contest improves skills for youth participants
Participants engaged in activities that improved their skills for the future.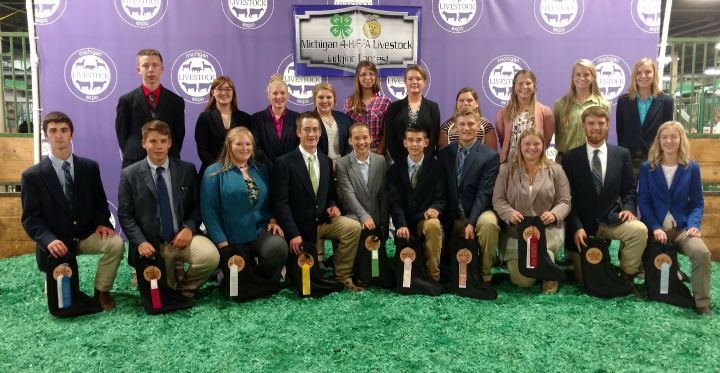 Youth enhanced many skills as they evaluated livestock at the Michigan 4-H/FFA Livestock Judging Contest held July 13. Among those skills are time management and public speaking, and both were used throughout the entirety of the contest. Throughout the eight classes of livestock, participants used time management skill as classes were timed and decisions were made efficiently and quickly within the time limit. Participants improved their confidence in public speaking as they had to defend their placings through answering questions or delivering oral reasons on specific classes. Throughout the day, youth were challenged to make decisions and were rewarded for their efforts.
The contest is run by Michigan State University (MSU) Extension, and the contest featured six divisions: 4-H Cloverbud (non-competitive), Junior 4-H, Junior High FFA, Michigan Livestock Expo (MLE) division, High School FFA and Senior 4-H. The event would not have been possible without Michigan farms allowing the use of animals. Livestock for the contest was provided by: Blake Pillars; Hayes Family; Hunt's Livestock; Electra Farm; Lakeside Farm; MSU Beef Cattle Teaching & Research Center; MSU Swine Teaching & Research Center; Narrow Brook Shorthorns; Souva family; and Willowcreek Farm.
Youth were awarded prizes in the various divisions. Special congratulations to the six 4-H Cloverbud participants ages seven and eight. In the Junior 4-H division (ages 9-13) the team from Ingham County 4-H consisting of Emma Barnum, William Barnum, Sophia Barnum and Meah Palmatier placed first. The top-ranking individual in the 4-H Junior and FFA Junior High contests was Emma Barnum from Ingham County. In the MLE division, Cameron Hayden of Cassopolis was the top-ranking individual.
Winning the Senior FFA Team division and having the opportunity to represent Michigan FFA at the National FFA Convention in Indianapolis, Indiana is the team from Hopkins FFA consisting of Bryce Jipping, Drew Flokstra and Stephanie Harvey. Each team member also received a $125 scholarship as part of the Team Building Award program from the Michigan Youth Livestock Scholarship Fund. Shannon Veld also from Hopkins FFA was named the high individual in this division.
In the Senior 4-H division, our largest division representing youth ages 14-18, the Branch County team consisting of Lydia AcMoody, Payton Hines, Kade Shiery and Cailyn Hines took home top honors. The team will have the opportunity to represent Michigan 4-H this fall. In addition to the team prizes and winning the Dr. David Hawkins' Trophy, each team member received prizes and a $125 scholarship as part of the Team Building Award program from the Michigan Youth Livestock Scholarship Fund.
Individuals were also recognized in the Michigan 4-H Senior division in preparation for forming additional national teams. The top 20 placing 4-H individuals are eligible to compete for teams that will judge at the North American International Livestock Exposition in Louisville, Kentucky and the Keystone International Livestock Exposition in Harrisburg, Pennsylvania. The following top-ranking contestants will have the opportunity to compete for one of eight spots to represent Michigan 4-H. The top 20 individuals from eight different counties include:
Darren Kulicamp, Ottawa County
Miles Wixom, Branch County
Jaycie Brown, Washtenaw County
Kade Shiery, Branch County
Shannon Veld, Allegan County
Bryce Jipping, Allegan County
Drew Flokstra, Allegan County
Abie Olger, Clinton County
Cameron Victor, Branch County
Lydia AcMoody, Branch County
Tyler Landis, Branch County
Cami Harris, Clinton County
Katrina Tucker, Allegan County
Matisyn Howell, Branch County
Makayla Ogg, Clare County
Jessica Nash, Clinton County
Amanda Kosal, Sanilac County
Cailyn Hines, Branch County
Kaddi Gewirtz, Shiawassee County
Vanessa Veld, Allegan County
A special thank you to all of the contest and award sponsors: Michigan Angus Association; MSU College of Agriculture & Natural Resources; Michigan Youth Livestock Scholarship Fund; and Steve and Nancy Thelen.
To learn more about livestock judging and the 2018 contest, visit the Michigan 4-H Animal Evaluation page or the MSU Extension website for animal science content. Michigan State University Extension and the Michigan 4-H Youth Development program helps to create a community excited about STEM (Science, Technology, Engineering, and Mathematics). 4-H STEM programming seeks to increase science literacy, introducing youth to the experiential learning process that helps them to build problem-solving, critical-thinking and decision-making skills. Youth who participate in 4-H STEM are better equipped with critical life skills necessary for future success. To learn more about the positive impact of Michigan 4-H youth in STEM literacy programs read our 2016 Impact Report: "Building Science Literacy and Future STEM Professionals."
Did you find this article useful?
---
You Might Also Be Interested In