From fireworks to fish: 2017 Summer Discovery Cruises offer fun lessons about some great lakes
Register now for this summer's educational cruises on Lakes St. Clair and Erie.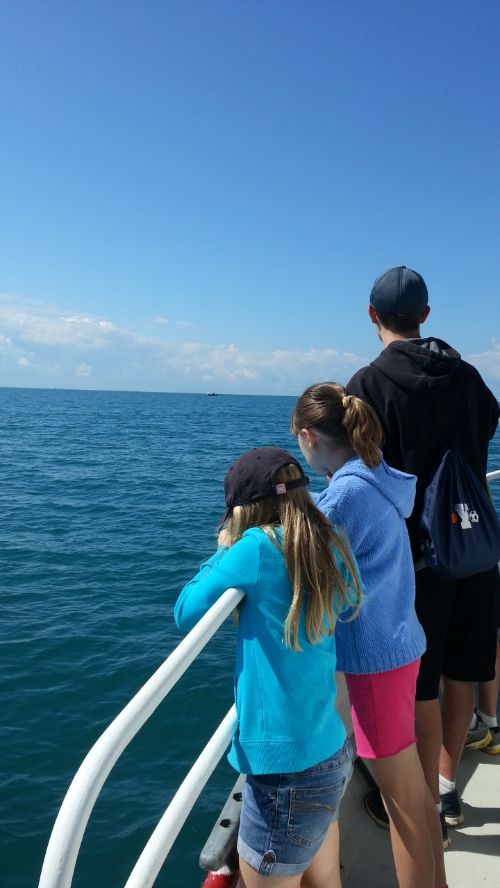 On June 25, the education vessel Clinton will set sail from Lake Erie Metropark for the first of this year's Summer Discover Cruises. This evening "Fireworks cruise" will provide passengers with a front row seat to fireworks launched from the Metropark while also learning a bit about astronomy, nighttime navigation, and nocturnal fish behavior.
The next day, the Clinton will head north on its "Journey through the Straits cruise," a 5-hour voyage from Lake Erie to the northernmost reaches of the Detroit River. Along the way, those on board will learn about the Detroit River International Wildlife Refuge, get a close look at the steel industry along the river, sail under the Ambassador Bridge, view Detroit's new downtown waterfront, and view Belle Isle from the water.
Back to the Detroit River
For three weeks following the Straits cruise, the Clinton sails Lake St. Clair operating out of the Lake St. Clair Metropark marina. It will then head south again to spend the second half of the summer on Lake Erie and the lower Detroit River.
There are more than 20 cruise themes to choose from, with topics ranging from lighthouses, shipwrecks, bootleggers and history, to fish, ecology, wetlands, restoration and weather. And especially for teachers, there are two half-day workshop cruises.
2 new cruises!
Two new cruises were added this year to coincide with the Advance Auto Parts Bassmaster Elite fishing tournament on Lake St. Clair. An early morning cruise puts passengers in the middle of take-off as tournament professionals head out on the last day of the competition. An afternoon cruise catches boats returning for weigh-in. Both offer a close up look at the tournament in action while learning the ins and outs of tournament fishing from a special guest speaker.
Most cruises range from 2.5 hours to 4 hours on the water and range in price from $15-$30 per person. Summer Discovery Cruises are a collaborative effort between Michigan State University Extension, Michigan Sea Grant, the Huron-Clinton Metroparks, the National Oceanic and Atmospheric Administration, and a number of program partners, including DTE Energy, Michigan DNR, the Detroit River International Wildlife Refuge, and the National Weather Service.
Registration is open for both individuals ages six and above, and groups. For more information or to register, go to www.discoverycruises.org. Cruises begin on June 25.
Michigan Sea Grant helps to foster economic growth and protect Michigan's coastal, Great Lakes resources through education, research and outreach. A collaborative effort of the University of Michigan and Michigan State University and its MSU Extension, Michigan Sea Grant is part of the NOAA-National Sea Grant network of 33 university-based programs.