2022 Field Crops Webinar Series recordings available to the public
The Field Crops Webinar Series is offered each winter to educate farmers and agribusiness professionals about timely crop production topics. Recordings from the 2022 season are now available for free to the general public.

The Michigan State University Extension field crops team hosts the Field Crops Webinar Series each winter to educate farmers, agribusiness professionals and ag-support agencies about a wide range of topics critical to field crop production. Participants hear presentations from MSU Extension Field Crops specialists and educators as well as experts outside of MSU. This series is held every year on Monday evenings from 7-8 p.m. February through March.
The theme for this year's series was "Two for the Price of One: Conversations in Row Crop Agriculture" where each session featured two speakers giving short presentations and discussing different aspects of the topic in an informal talk-show/podcast format. There was plenty of opportunity for interaction with the audience and numerous questions were fielded each night. Participants were also eligible to earn one Michigan pesticide recertification (RUP) credit for attending each live session. Each session was recorded, captioned, and made available to the paid participants the same week.
To maximize the reach of the program and provide a greater benefit to our agricultural community, the field crops team makes these recordings available to the general public free of charge after the start of the cropping season. These are available on the MSU Extension Field Crops team website. You can click on the Field Crop Webinar Series tab at the top to see a list of recordings (chronologically, most recent on top) or you can click the Videos tab on the toolbar below and search for videos by topic, presenter, etc. You can also find recordings from the team's Virtual Breakfast sessions here. Recordings from past seasons of the Field Crops Webinar Series are also available.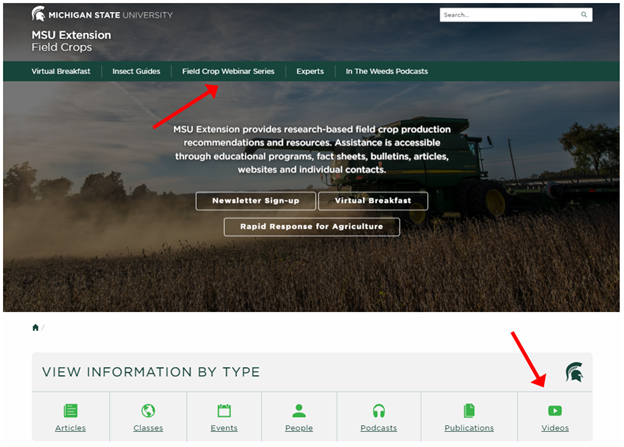 Topics and speakers from 2022 included:
Weed Management in 2022 – Herbicide Availability and Alternative Effective Options

Christy Sprague, Field Crop Weed Specialist, MSU & Aaron Hager, Field Crop Weed Specialist, University of Illinois at Urbana-Champaign

Soybean Best Management Practices – Have They Changed Over Time?

Mike Staton, Soybean Educator, MSU Extension and Mark Seamon, Research Coordinator, Michigan Soybean Association

Corn Management Today: Does Chasing the Last Bushel Pay?

Emerson Nafziger, Professor Emeritus and Extension Agronomist, University of Illinois and Kyle Kelley, Agronomist, Cropwatch LLC

The Rise and Fall of Armyworm and the New Insect Guide

Chris DiFonzo, Field Crop Entomologist, MSU and Kelley Tilmon, Agricultural Entomologist, The Ohio State University

Managing Crop Fertility When Input Costs are High and Margins are Thin

Kurt Steinke, Field Crop Soil Fertility Specialist, MSU and
Jim Camberato, Purdue Extension Soil Fertility Specialist

Weed Control in Hay Fields and Pastures

Kim Cassida, Forage and Cover Crop Specialist, MSU and Erin Burns, Field Crop Weed Specialist, MSU

Nematode Management Options for 2022

Greg Tylka, Nematode Specialist, Iowa State University and Marisol Quintanilla, Nematode Specialist, MSU

Tar Spot Management - Hybrids, Fungicide Efficacy and Optimizing Fungicide Timing

Marty Chilvers, Field Crop Pathologist, MSU and Damon Smith, Field Crop Pathology Extension Specialist, University of Wisconsin-Madison