Register now for the 2022 Pre-Bloom Blueberry Meeting
Growers can attend our pre-bloom blueberry meeting on May 18 in-person in Fennville or via Zoom.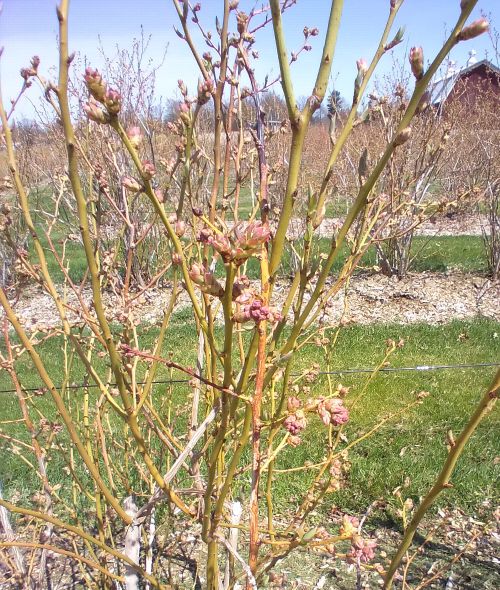 The blueberry bloom period is fast approaching, and growers need to be updated on issues related to the early portion of the season such as bee pollination, fruitworm management and blueberry diseases that need to be managed this time of year. Michigan State University Extension invites blueberry growers to attend our 2022 Pre-Bloom Blueberry Meeting from 1-4:30 p.m. on Wednesday, May 18, at the Trevor Nichols Research Center in Fennville, Michigan, or via Zoom for those unable to travel to Fennville. We have prepared an interesting program addressing topics that are relevant for the industry at this time of the season.
Growers attending this blueberry meeting will receive three RUPs for the renewal of their pesticide applicator license. Below is the agenda for the meeting and instructions to pre-register online to attend.
Agenda
| | |
| --- | --- |
| Time | Topic |
| 1:00-1:10 p.m. | Welcome and Industry Update |
| 1:10-1:30 p.m. | 2021 Blueberry IPM evaluation: Results and recommendations for 2022 crop season. |
| 1:30-2:00 p.m. | Disease management: Mummy berry and Anthracnose, and Research Projects |
| 2:00- 2:30 p.m. | Navigating MSU Enviroweather's New Website: Tips and Tricks for Blueberry growers. |
| 2:30-2:35 p.m. | Break |
| 2:35-3:00 p.m. | Fruitworm and Blueberry Stem Gall Wasp management recommendations |
| 3:00-3:20 p.m. | Honey bee and pollinator stewardship |
| 3:20-4:30 p.m. | Blueberry irrigation scheduling to improve fruit quality and yield |
| 4:30 p.m. | Questions and adjourn |
This event is free. There is not cost for attending but online pre-registration is required.
Register for the 2022 Pre-Bloom Blueberry Meeting
We very much appreciate your participation in this event since this is an opportunity to hear your comments and suggestions to improve our programing for better serving our blueberry industry.
For information and further assistance, email Carlos Garcia at garcias4@msu.edu.