2023 Needs assessment of Michigan small-scale beekeepers
Results from a 2023 survey that Michigan State University Extension and Michigan Beekeepers Association administered to beekeepers and people interested in keeping honey bees.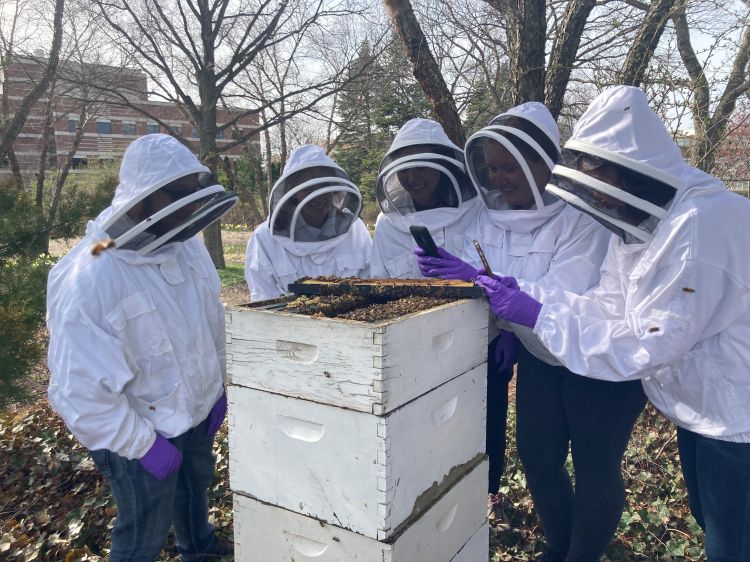 Beekeepers in Michigan face many challenges. Michigan State University Extension (MSU Extension) wants to help beekeepers overcome these challenges and hear from them about their topics of interest and needs. In May 2023, MSU Extension and Michigan Beekeepers Association (MBA) administered a needs assessment to understand educational needs of small-scale beekeepers in Michigan. MSU Extension and MBA shared the online survey through MBA's email list, MSU Extension's Pollinators & Pollination website and email digest, the Michigan State University Beekeeping Facebook page, Michigan Beekeepers Association's Facebook page and beekeeping events.
The survey received responses from 285 individuals who indicated they were from Michigan from 64 counties. Eight percent of responses came from people new to beekeeping with zero years of beekeeping experience, and 95% of responses came from beekeepers who have fewer than 50 honey bee colonies. The survey also received 33 responses from individuals outside of Michigan that are not included in this report.
MSU Extension and MBA will use responses from this needs assessment to choose topics for beekeeping conference sessions and other educational programs.
Educational topics of interest
Respondents were asked, "Which beekeeping topics would you like more information on?" and instructed to select all that apply. Total responses = 279:
62% Keeping colonies alive
59% Disease identification
59% Disease management
59% Dealing with queen events and queenlessness
59% Wintering
51% Managing varroa
47% Making nucs or splits
43% Swarm deterrence
40% Queen rearing
34% Feeding and nutrition
33% Monitoring varroa
28% Honey production
26% Constructing and maintaining beekeeping equipment
25% Increasing the number of colonies I manage
9% Other
Respondents were asked, "Which additional topics would you like more information on?" and instructed to select all that apply. Total responses = 252:
58% Planting for pollinators
40% Wild bee species
35% How to train and teach other beekeepers
29% Increasing profitability
22% Getting started with beekeeping (first two years of beekeeping)
20% Farm management and business
10% Dealing with farm stress
5% Deciding if I want to work for a commercial beekeeping operation
5% Deciding if beekeeping is right for me
5% Other
Preferred formats to receive beekeeping information
Respondents were asked, "How would you prefer to receive beekeeping information?" and instructed to select all that apply. Total responses = 280:
56% In-person presentations in a classroom setting or at beekeeping club meetings
53% In-person conferences or bee schools
50% Virtual conferences and bee schools
50% In-hive classes and workshops
48% Live webinar presentations on a specific topic
48% Videos filmed in the field, for example filmed in an apiary or honey house
47% Webinar video recordings posted online
45% Online course that is self-paced
40% Visits to someone else's bee yard
38% Live webinar presentations in an informal question and answer format
34% Online web pages and articles
31% Email newsletters
29% Consultations in my bee yard
27% Articles in trade journals (e.g., American Bee Journal, Bee Culture)
19% Online course with a group of students, a set timeline, discussion boards and deadlines
15% Podcasts
10% Blog posts
9% Facebook
4% Instagram
3% Twitter
3% Other
1% TikTok
0% Snapchat
Years of beekeeping experience
Respondents were asked, "For how many years have you been keeping honey bees?" Total responses = 285:
8% 0 years
14% 1-2 years
56% 3-9 years
14% 10-20 years
8% More than 20 years
Number of colonies managed by beekeepers
Respondents were asked, "How many colonies do you currently have?" Total responses = 285:
9% 0 colonies
64% 1-8 colonies
22% 9-49 colonies
4% 50-499 colonies
1% 500+ colonies
Apiculture and pollinator resources from MSU