4-H changes life of Peace Corp volunteer through leadership and international exchange opportunities
Participating in 4-H international exchanges and other 4-H programs can build leadership and cultural competence.
"4-H changed my life!" Rebecca McCafferty shared that belief as she was about to leave for Togo, Africa for two years as a Peace Corps volunteer. Bekah was an active 4-H member in Luce County for seven years. She traveled to Japan in 2001 through the 4-H International Exchange program and is an example of how 4-H can help youth develop life skills and impact career choices.
In 2005, Bekah wrote about her 4-H experiences and the impacts 4-H had on her life.
"My trip to Japan gave me the desire to learn as many languages as I could. It was fun trying to figure out ways to communicate and avoid the language barrier. My host sister would look to me to help her with her English homework, and it made me want to teach English overseas as a second language. My trip to Japan was one of the greatest experiences of my life and also helped me to decide what I might do in the future as a career. "
"Through 4-H, I learned so much about myself, and it inspired me to want to help people and be involved overseas. I became a more confident leader and I'm no longer intimidated to introduce myself to people. 4-H has helped shape me into the person that I am today and made a big impact on the way I would like to live my life in the future through whatever career I choose."
While in the Peace Corps, Bekah lived in Ogaro, a small village in Northern Togo with a Togolese family. She remembered living with a host family in Japan as a valuable, authentic experience that helped prepare her for the Peace Corps. While in Africa, she served as a natural resources specialist working on a variety of projects, including teaching how to build a sustainable toilet. She served as a camp counselor with 60 youth who were affected by HIV/AIDs and taught sexual education lessons there. She enjoyed working with her host brother with his homework and helping to teach him English. She learned to read, write and converse in French, the off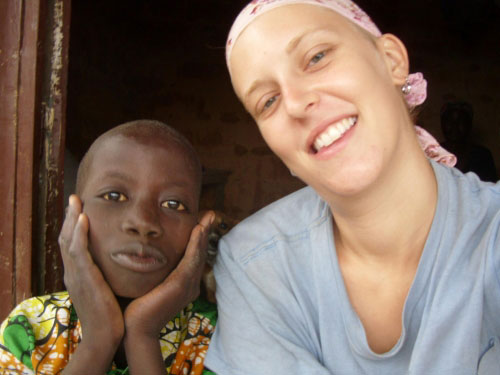 icial language of Togo and some phrases in Gourma, a local indigenous language.
Bekah returned from Togo in December of 2011. 4-H will continue to be an important part of her life as she was recently hired as the MSU Extension 4-H Program Instructor for Youth Development in Ionia and Montcalm counties.
The 4-H International Exchange program authorized a 2003 study to evaluate international experiences like Bekah had in Japan. The study, authored by Mary Arnold from Oregon State University, documented the impact of the 4-H Japanese Exchange program. Through a pre-and post-test survey of 70 youth with 30 completing the post test, youth traveling to Japan reported a significant increase in comfort in traveling to other countries, communicating in a language other than English, living with people they did not know and meeting people from another culture.
"The results of this evaluation showed the impact participating in the 4-H Japanese Exchange program has on youth. From learning to appreciate other people and cultures, to developing important social skills, to forming a self and career identity, youth participating in the exchange report that the experience had a high level of impact on their developing lives."
Michigan 4-H offers many opportunities through local, state and international programs to develop leadership and other life skills. For more information visit the Michigan 4-H website at: Michigan 4-H Youth - Citizenship,Leadership and Service.