4-H youth gain industry knowledge and life skills at national livestock judging contest
Four Michigan 4-H members increased their animal selection skills and improved confidence through judging at the Keystone International Livestock Exposition judging contest.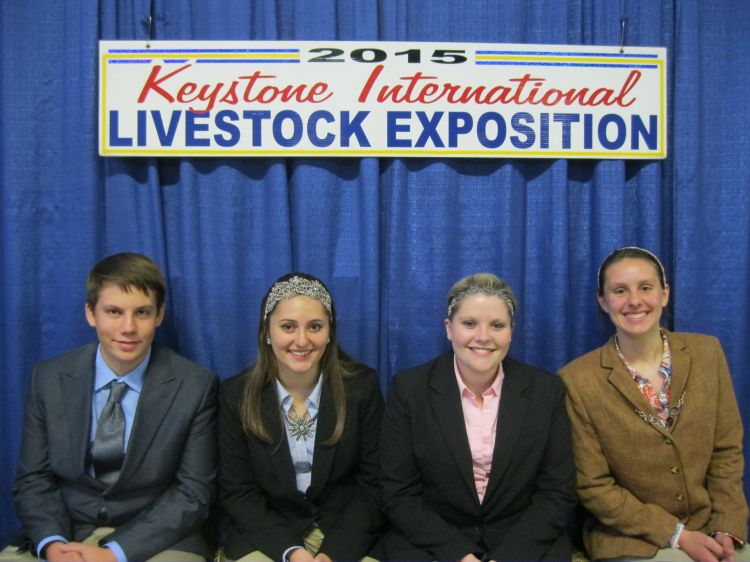 Evaluating livestock can be a daunting task. Recently, four Michigan 4-H members returned from the Keystone International Livestock Exposition in Harrisburg, Pennsylvania, Sept. 26-Oct. 4, 2015, where they competed in their first national livestock judging contest. These youth were from three counties including Allegan, Livingston and Ottawa. For the contest, contestants evaluated 12 classes of animals, consisting of four individuals in each class. There were five classes of beef cattle, three classes of sheep and four classes of swine. Contestants then delivered four sets of reasons and answered two sets of questions each on a specific class.
In speaking about her experience, Livingston County member Katherine Miller stated, "Going to Keystone is a memory I will never forget. It boosted my confidence as a judger. I gained knowledge on how a full day of judging feels, along with learning helpful and applicable tips on giving reasons." Miller also reflected on how this will help her in the future, stating, "I gained knowledge in the agricultural industry that I can use and share with my future students, as an agriculture education teacher."
Gaining confidence and insight into career preparation is something all four youth took away from their national experience. Ottawa County member Cassie Perrin stated, "I learned a lot about the livestock industry and gained contacts I can use in the future. I also had so much fun traveling around and judging all kinds of different livestock."
By participating in a livestock judging contest, contestants enhance their livestock evaluation and selection skills, as well as improve their communication and decision-making skills. First year livestock judger Esther Schmidt from Livingston County reflected on the life skills gained through her judging experience thus far. Schmidt stated, "Livestock judging has helped me with my public speaking skills, making decisions and defending my decisions, to be a critical thinker and to work well when I am under stress."
These four individuals were selected to compete from across the state as a result of their placing at the Michigan 4-H/FFA Livestock Judging Contest on July 16, 2015, held in conjunction with the Michigan Livestock Expo and their participation in numerous practices this summer and fall. When asked about his experience with the new program, Allegan County member Miles Wixom stated, "I would strongly encourage others to do this. It was not only the most fun I've had on a trip, but it was also the best experience I've had as part of the livestock industry."
Congratulations to these four youth on their great learning experience. October is a busy month for judging as there are four members from Livingston County competing at the American Royal in October in livestock judging and three members from Ottawa County competing in the National 4-H Meat Judging Contest also in October. The final Michigan 4-H team will compete this November at the North American International Livestock Exposition as a cross-county team from Clinton, Lapeer, Monroe and Washtenaw counties.
For additional information, visit the Michigan 4-H Animal Evaluation page or contact me, Michigan State University Extension educator, at thelenju@anr.msu.edu.