40th Annual 4-H Horse Benefit Clinic weekend was a success
Read more about an event-packed weekend for equine enthusiasts at the MSU Pavilion.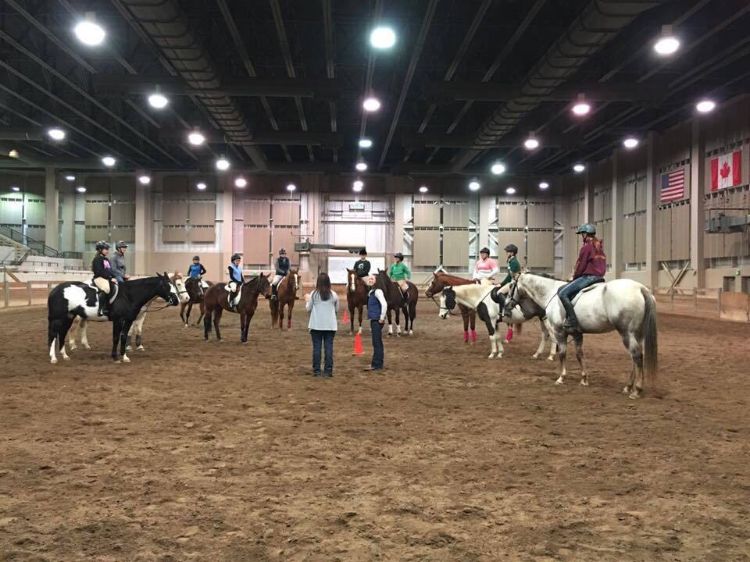 Equine enthusiasts from all over Michigan flocked to the Michigan State University Pavilion for Livestock and Agriculture Education this past weekend, Feb. 3-4, 2017. The weekend held several activities beginning with the Annual 4-H Horse Judging Workshop on Friday evening where I, MSU horse judging coach and MSU Extension 4-H horse program coordinator, shared tips on evaluating the popular classes of western pleasure and western horsemanship.
Participants of the horse judging workshop then had the opportunity to test their skills at the practice horse judging contest on Saturday morning. The contest offered three classes: quarter horse geldings at halter, western pleasure and western horsemanship, as well as an opportunity for contestants to give a set of oral reasons. With over 70 participants, the judging workshop and practice contest were well-attended and well-received! Results of the contest can be found online at the MSU Horse Youth Programs website.
Next on the agenda was the 40th Annual Michigan 4-H Benefit Clinic held in the main arena. Clinic spaces are coveted and limited to only 10 riders. The clinics offered in 2017 were hunt seat equitation with Jessica Pickford, showmanship with Dustin Boehmer, trail with Tessa Criste and ranch riding with Corey Rogers. Riders and auditors received valuable information to help improve their own performances, as well as what judges are considering when evaluating these classes. The stands and arena were a buzz of activity throughout the day. All proceeds from the clinic benefit the Michigan 4-H horse programs.
Throughout the day on Saturday, the stalling area was filled with humans rather than the usual equine tenants. The Michigan Quarter Horse Association sold over 200 tack sale booths and the shopping opportunities were abundant. From tack and equipment to show clothes and hats, anything you needed to outfit yourself for the 2017 show season was there for you. The Michigan Quarter Horse Youth Association also held their annual soup fundraiser and it successfully raised nearly $1,000 to help fund their youth development programs and activities.
Missed the event and you're feeling left out? Not to worry, these events are all annual and we'd love to have you join us next year. Until then, be sure to visit the 4-H Youth Horse Programs website for details about more upcoming events!