4-H around the world: Norway
4-H has spread around the world. Let's explore 4-H in Norway, known as 4H Norge.
The Michigan State University Extension series exploring 4-H around the world continues. Summer and fall have passed and everyone is enjoying winter time activities. School is in full swing, county youth fairs have completed, and Michigan 4-H summer camps are now preparing for winter camps. Did you know there is a tradition of organizing 4-H camps every second year by Danish, Norwegian, Swedish and Finnish 4-H organizations, which is properly called 4H Norge? Did you know there is a 4H Norge Facebook page you could like? Let's explore more about 4H Norge!
How does 4-H look in Norway? The first 4-H club in Norway was founded in 1926, just 12 years after Michigan 4-H, which officially started in 1914. The Michigan 4-H motto is "To make the best better." Similar to Canada 4-H, where the motto is "Learn by doing," 4H Norge's motto is "Learning by doing." Like the 4-H structure in the United States, 4H Norge is organized at the local, county and national level. There are approximately 590 clubs in Norway today, representing 13,700 members and alumni. 4H Norge is open to all youth between the ages of 10 and 25. The actual 4-H programming in Norway is for youth between the ages of 12 and 19.
Did you know that States' 4-H International Exchange Program offers an exchange program with Norway? During summer 2016, 17 youth from the United States returned after experiencing a homestay with Norwegian 4-H families, sightseeing in Oslo and attending a weeklong National 4-H camp with 1,000 other 4-H youth from around the world.
A delegate from Oregon had an interesting experience with her host family and reflected on her experience in a positive way. She said, "All in all, this was one of the greatest experiences in my life and I learned much. The best thing was meeting all the new people and getting new friends. Also, traveling is a great time for thinking about your own life. I didn't know what to do after high school, but during this exchange I got totally new plans for the future."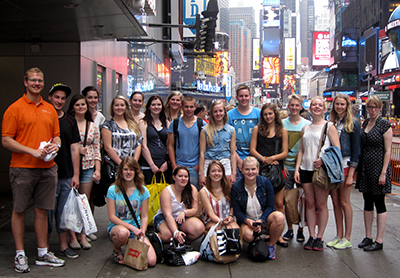 Next summer through the States' 4-H International Exchange Program, some American 4-H youth will learn firsthand about Norway by opening their homes and hearts to an exchange student. Please visit the States' 4-H International Exchange Program website to learn more about becoming a host family to a Norwegian youth.
For incoming youth from Norway, States' 4-H International Exchange Program provides an orientation program in Washington, D.C. It is a two-day program that helps them prepare for their host family stay and gives them an opportunity for some civic education by visiting some of the Washington, D.C. landmarks.
My primary contact in Norway, Sølvi Egner-Kaupang, said, "We greatly appreciate our partnership with 4-H in the U.S. It is a lifetime experience to be part of the exchange between our two countries. They learn the culture and everyday life in a completely different way than when coming on holiday. 4-H Norway looks forward to several summers with the exchange, and want our U.S. 4-H friends to feel welcomed!"
Michigan State University Extension and the Michigan 4-H Youth Development program help to prepare youth as positive and engaged leaders and global citizens by providing educational experiences and resources for youth interested in developing knowledge and skills in these areas. To learn about the positive impact of Michigan 4-H youth leadership, civic engagement, citizenship and global/cultural programs, read our 2015 Impact Report: "Developing Civically Engaged Leaders."
Other global educational opportunities can also be found on the MSU Extension Global and Cultural Education webpage. For more information about 4-H learning opportunities and other 4-H programs, contact your county MSU Extension office.
Other articles in this series
---