4-H Family Engineering Night engages youth in science
Families conquered engineering challenges during a Family Engineering Night in Alcona County.
Families from across Alcona County came together at the Alcona Elementary School on Feb. 16 to participate in a Family Engineering Night facilitated by Michigan State University Extension educator Tracy D'Augustino.
Families began the evening doing a series of short (3-10 minute) self-guided engineering activities. This was followed by an exploration of engineering careers. Participants were asked "Have you ever built a mud dam?" While hands were raised, the facilitator stated, "Then you could be a civil engineer!"
The purpose of this exploration was to help youth begin to understand that like the general title of "scientist", the title "engineer" encompasses a wide variety of career possibilities that could include building bridges, train tracks, fish tanks, metals for tools, materials for clothing, tools for doctors and much, much more.
Participants then talked about developing solutions and how important it is to have a plan for a design process. The facilitator shared one process which included six parts:
Ask. Define the challenge, its limits, what you know and what you need to know.
Imagine. Brainstorming possible solutions.
Plan. Consider the solutions from the imagine step and determine which best meets the ask.
Create. Build your solution based on the plan and test it.
Improve. Think about the test results, discuss changes and make improvements.
Communication. Throughout all areas of the process, communication is vital: communication within the team, with the boss and with the customer.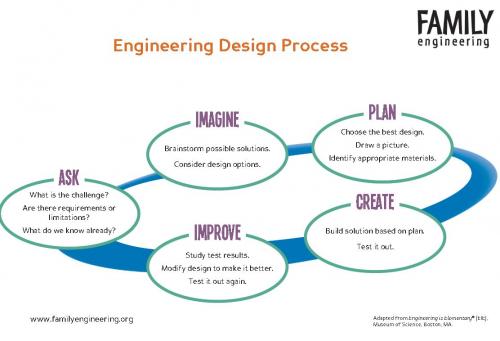 Youth and their families then discussed each part of this engineering design process. The night culminated with a final challenge for youth and their families: design a rocket using one piece of paper and 12 inches of tape. The goal was to build a rocket that would fly the farthest when launched off a straw taped to the end of a squeeze bottle. Participants had time to fully engage in the engineering design process before it was time to test their chosen prototype. Designs varied greatly from balloon-shaped rockets to streamlined tubes with fins and a cone. Regardless of their design, the youth were excited about the final test and offered ideas for improvement to fellow designers.
Overall, the night was a great success, providing youth and their families an opportunity to engage in an exploration of engineering through quality family time. The activities used during the Family Engineering Night were developed by the Foundation for Family Science & Engineering, Michigan Technological University and the American Society for Engineering Education with support from the National Science Foundation.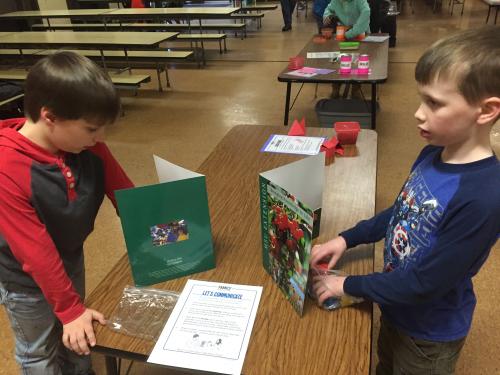 This event was one example of how the MSU Extension Science Team is working to increase science literacy in Michigan. To find more events to engage youth, visit the MSU Extension 4-H Youth Development site and explore the MSU Extension science and technology website for more ways to share science with youth in your life. For more information about 4-H learning opportunities and other 4-H programs, contact your local county MSU Extension office.