4-H Family STEM Night at Mio AuSable area school was a great success
Families explored a STEM night focused on engineering in Oscoda County January 2018.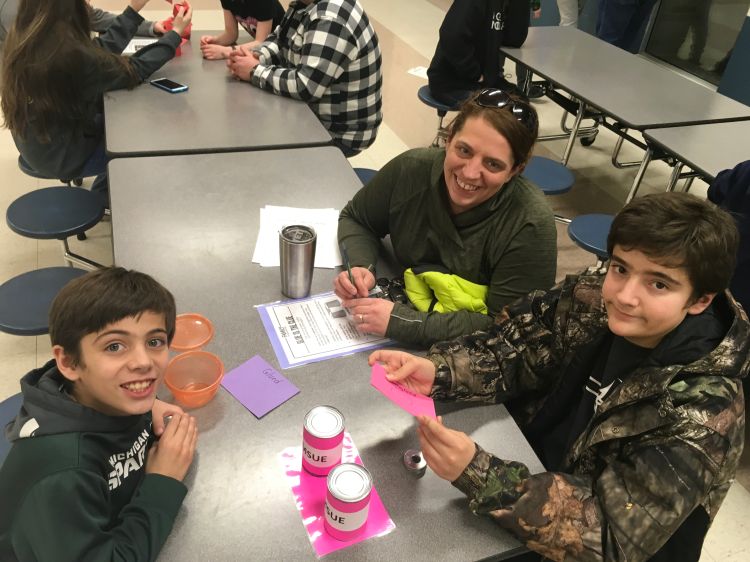 Families from across Michigan's Oscoda County came together Jan. 10, 2018, at a Mio AuSable area school to participate in a Family STEM (Science, Technology, Engineering and Math) Night facilitated by Michigan State University Extension. Families began the evening learning about the resources MSU Extension brings into a county. For more than 100 years, MSU Extension has helped grow Michigan's economy by equipping Michigan residents with the information they need to do their jobs better, raise healthy and safe families, build their communities and empower our children to dream of a successful future.
Then the fun began with a series of 3-to-10-minute self-guided engineering activities. This was followed by exploring engineering careers. Participants were asked to raise their hand if they were engineers. When only a small handful raised their hand, they were then asked to raise their hand if they've ever built a mud dam. While more hands were raised, the facilitator stated, "Then you could be a civil engineer."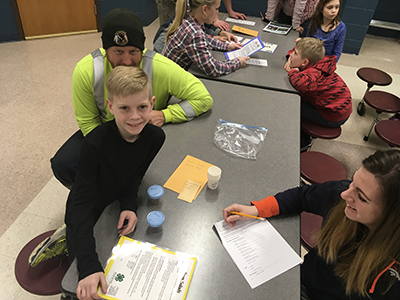 The questions continued drawing attention to aerospace, environmental and chemical engineering. The purpose of this exploration was to help youth begin to understand that like the general title of "scientist," the title "engineer" encompasses a wide variety of career possibilities that could include building bridges, train tracks, airplanes, materials for clothing and medical equipment, tools for doctors and much, much more. Again, the participants were asked, "Are you engineers?" Everyone responded, "Yes."
The conversation grew to include exploring what an engineer does. Participants learned engineering is designing solutions to problems. Youth and their families practiced being engineers by first identifying the problem items had been designed to solve, thinking about how else the items could be used and then completing a design challenge from start to finish.
Youth and their families designed a grabber using a small bag of supplies and masking tape, which could pick up a small cup, a cotton ball and a small plastic frog. Participants had time to test and modify their designs before picking their best to bring for the final testing. Designs varied greatly from simple, chopstick-like tools to elaborate, multipronged tools. Regardless of their design, the youth were excited about the final test and offered ideas for improvement to fellow designers.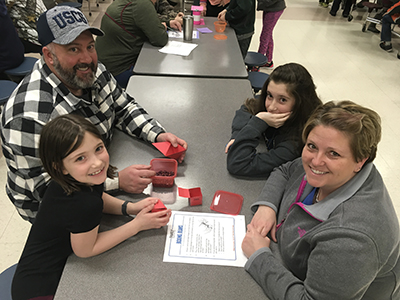 Overall the night was a great success, providing youth and their families an opportunity to engage in exploring the engineering aspect of STEM embedded in quality family time.
The activities used during the Family Engineering Night were developed by the Foundation for Family Science & Engineering, Michigan Technological University and the American Society for Engineering Education with support from the National Science Foundation.
This event was one example of how the MSU Extension science team is working to increase science literacy in Michigan. See MSU Extension's Science and Engineering Events to find more events to engage youth, or visit the Science and Engineering page for more ways to share science with the youth in your life. For more information about 4-H learning opportunities and other 4-H programs, contact your local MSU Extension office.