4-H Great Lakes and Natural Resources Camp is summer fun and science education at their best
4-H Great Lakes and Natural Resources Camp leads the way in increasing science literacy among Michigan young people.
Teens from across the state will be engaged in 4-H Great Lakes and Natural Resources Camp, a residential seven-day Michigan State University (MSU) pre-college program. In the past five years, the camp has received national recognition three times for youth development and science education excellence.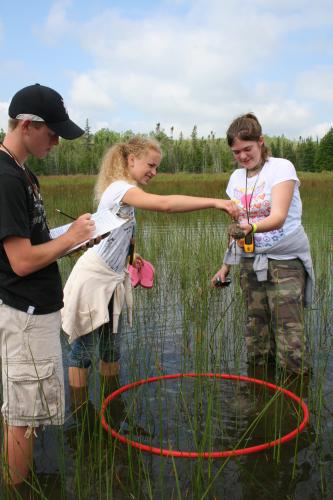 The camp will be held July 28- Aug 3 on the northern shores of Lake Huron at Camp Chickagami in Presque Isle. This popular summer camp has been at capacity for the past two months with 70 teens aged 13 to 15 signed up to attend. Interested teens can be added to a waiting list as well. The faculty-to-student ratio of 1-to-4 ensures that camp staff are available for mentoring, that campers gain important science literacy skills and learn about postsecondary education options and careers in science. Campers will learn about Michigan natural resources in sessions such as Alien Invaders in the Great Lakes, Woodlands and Wildlife, and Watersheds. Experts are recruited from a wide variety of places, with knowledge ranging across many fields of science and technology. Camp staff will be from the MSU Fisheries and Wildlife Department, Michigan Sea Grant, MSU Extension 4-H Youth Development , U.S. Fish and Wildlife Service, Great Lakes Fishery Commission, NOAA Thunder Bay National Marine Sanctuary and more.
Science activities are inquiry based, promote the development of life skills and expose youth to diverse science fields and careers. Campers are encouraged to get involved in their communities through science projects, build skills to serve in leadership roles and develop lasting friendships with other teens from across the state. They also get to have fun in the sun through activities including charter fishing, snorkeling, sailing and kayaking.
Following their involvement, some campers will be nominated to apply for a $2,000 MSU Pre-College Scholarship based on criteria such as attitude, behavior and active participation. The scholarship is applied toward each recipient's first year at MSU as a degree-seeking student. For more information on 4-H Great Lakes and Natural Resources Camp, visit the program page on the 4-H website.
Did you find this article useful?
---