4-H Great Lakes & Natural Resources Camp delivers environmental education and fun in the sun
Each summer, teens across the state enjoy fun in the sun at the 4-H Great Lakes and Natural Resources Camp in Presque Isle, Michigan.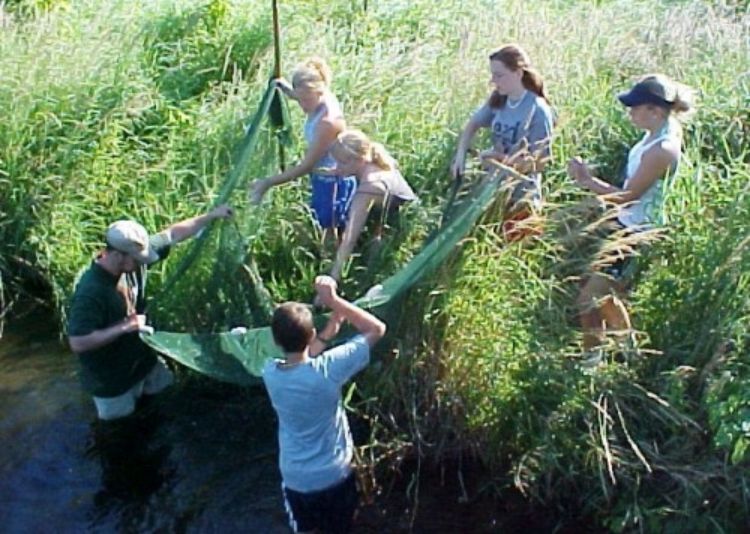 Each summer, teens across the state enjoy fun in the sun at the 4-H Great Lakes and Natural Resources Camp in Presque Isle, Michigan. This Michigan State University pre-college program provides hands-on experience with Michigan's natural resources, builds leadership skills and encourages career exploration. This week of learning of understanding and appreciation for Michigan can be a life-changing experience for young 4-H members. 4-H teens and counselors from 26 Michigan counties gathered in early August for the camp. Campers, ages 13 to 15, attended sessions on earth science and biology material covered in the Michigan curriculum standards for students, grades eighth to 12th.
They rotated through five different morning Great Lakes Ecology Exploration Sessions, including:
-Charter Fishing and Fisheries, in which campers fished and studied the aquatic life of local lakes and streams up close.
-Coastal Processes, where teens experienced Great Lakes marine science—coastal processes such as currents, waves, erosion and dune building.
-Watersheds Lakes introduced campers to "limnology"– the freshwater equivalent to marine biology. Teens conducted water tests and studied samples.
-Wetlands Exploration Natural Area Mapping, showed teens why wetlands are so important to our Great Lakes ecosystems and watersheds. Campers used GPS technology to map the coastal habitats of plants and animals.
-Woodlands Wildlife explored the importance of diverse woodland habitats. Campers used research tools such as telemetry equipment to track animals.
4-H'ers also enjoy an array of outdoor activities at the camp, including charter fishing, kayaking, snorkeling, sailing, shooting sports, fossil hunting, nature photography, night hikes and more. Teens meet new people from different places and form lasting friendships.
One first-year camper summed up the camp experience:
"I benefited so much," said Julia from Oakland County. "I got to do things I have never done before, like sailing, charter fishing on Lake Huron and exploring wetlands. I will never forget all the fun I had, all the friends I made and all the things I learned. I can't wait to come back next year!"
By learning from natural resource and youth development experts, campers gain awareness of environmental problems, foster environmental stewardship and cultivate local natural resource projects.
To learn more about Great Lakes and Natural Resources Camp, check out the information and slideshow on-line at http://4h.msue.msu.edu/events/glnrc. You can also view photos on Facebook by searching "4-H GLNR Camp." Next year's dates will be July 31 to August 6.