4-H in the Garden
4-H in the Garden is an annual event to showcase Michigan 4-H Youth Development.
Are you looking for something fun to do this summer? 4-H in the Garden is a fun, fabulous and free event. 4-H in the Garden will be held Tuesday, August 20, 2013 from 4–7 p.m., at the 4-H Children's Garden on the campus of Michigan State University. Families with children between the ages of five and19 are invited to participate in many hands-on activities to experience a little of Michigan 4-H. Free MSU Dairy Store ice cream will be available for participants, compliments of the Michigan 4-H Foundation.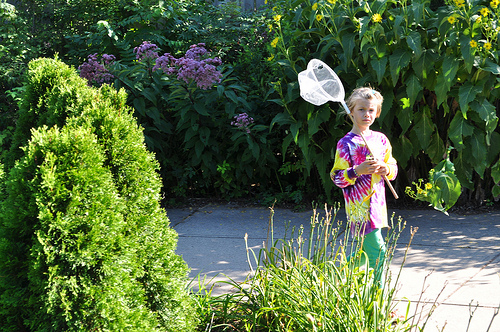 4-H in the Garden is an annual event to showcase Michigan 4-H Youth Development. Some of the highlights to look forward to at this year's event include 4-H science and robotics, the science of bubbles, gardening, rabbits, goats, performing arts, and global and cultural education. There are many hands-on activities to explore and opportunities to learn about 4-H. This is also a perfect time to meet 4-H members and volunteers and to find out if 4-H is for you!
Michigan State University Extension provides highlight to illustrate just what Michigan 4-H is.
4-H is the largest youth development organization in Michigan with more than 200,000 youth participants between the ages of five and 19.
Michigan 4-H is a part of MSU Extension which allows the activities your kids participate in to be backed by and based on child development research.
4-H uses experiential, hands-on learning and time spent intentionally thinking about what's been learned. This creates meaningful experiences for youth who learn skills and ideas that last a lifetime.
Kids who participate in 4-H obtain better grades, are more likely to go to college, are less likely to use drugs, cigarettes or alcohol, and are more likely to give back to their communities.
They may be learning to be a photographer, building their own robot, growing a garden, writing and performing a song, or raising an animal, but what they are really doing is learning to be a leader, building their self-confidence, growing their awareness of good citizenship, writing their own future and raising expectations—of themselves.
To learn more about the impact 4-H Youth Development has on the lives of youth, refer to MSU Extension 4-H Youth Development Fast Facts. Additional information about Michigan 4-H is also available online.