4-H Outdoor Adventure Challenge Orientation Workshop set for May 5-7, 2017
Enjoy spending time outdoors? Want to share that experience with youth? Get involved with 4-H Outdoor Adventure Challenge through the orientation workshop.
March 22, 2017 - Author: Nick Baumgart, Michigan State University Extension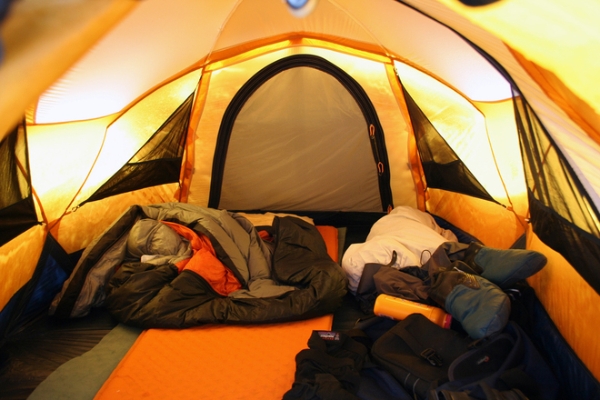 The 4-H Outdoor Adventure Challenge program is designed to get youth outdoors in challenging situations. These circumstances test youths' character and help develop their physical and mental skills. The Outdoor Adventure Challenge workshops help prepare 4-H leaders how to best meet the needs of youth in these areas with strategies, knowledge and activities.
The Outdoor Adventure Challenge Orientation Workshop is the first step in this process for leaders. This workshop provides an introduction and overview of the Outdoor Adventure Challenge program. This training immerses participants in the outdoor experience through camping, hiking, cooking outdoors, orienteering and other outdoor activities. During this time, experienced trainers guide participants through several activities that stimulate discussion relative to youth engagement strategies, team-building and problem-solving.
Participants need to come prepared for spending the weekend outdoors. Sleeping in tents, cooking on a fire and no showers is the norm for this workshop. Some past participants have learned the hard way when their sleeping bag wasn't warm enough or their tent leaked. This is a difficult lesson but one that is well remembered for future use. Do not be discouraged about not having the proper equipment. Instructors have extra gear to help people get acclimated to outdoor activities. Contacting them in advance will ensure the right equipment is available.
The 2017 orientation workshop takes place on the Manistee River near Kingsley, Michigan, May 5-7. Cost for the workshop is $50, which covers camping, curriculum materials and training. Participants should bring their own food, proper clothing and gear. Assistance with equipment can be arranged with prior notice.
Upon successful completion of the workshop, leaders are certified to lead youth on day hikes and other outdoor day activities. The workshop may be relocated centrally to accommodate participants. Adults and teen leaders can register now for this unique workshop training opportunity.
The workshop is a hands-on, experiential learning opportunity that focuses on methods and skills for working with youth in the outdoors. It provides the background, but the real reward is helping youth discover the beauty and awe of the outdoors. Consider getting involved.
Michigan State University Extension encourages participation in new experiences that are safe and expose youth to science involvement with 4-H Science: Asking Questions and Discovering Answers. Please contact me at baumga75@anr.msu.edu for ideas on spending time outdoors with youth.
Michigan State University Extension and the Michigan 4-H Youth Development program help to create a community excited about STEM (Science, Technology, Engineering, and Mathematics). 4-H STEM programming seeks to increase science literacy, introducing youth to the experiential learning process that helps them to build problem-solving, critical-thinking and decision-making skills. Youth who participate in 4-H STEM are better equipped with critical life skills necessary for future success. To learn more about the positive impact of Michigan 4-H youth in STEM literacy programs, read our 2015 Impact Report: "Building Science Literacy and Future STEM Professionals."