4-H pillowcase project making a difference
Stitch together a pillowcase for a 4-H community service experience.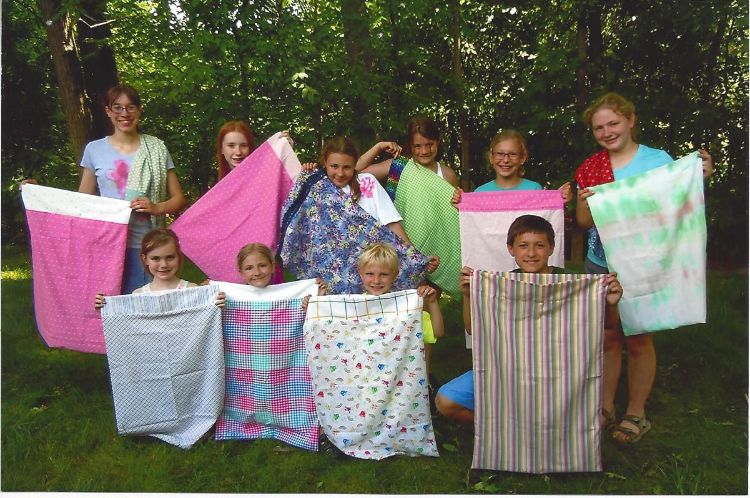 Yes, something as "simple" as sewing a pillowcase does make a difference. Michigan State University Extension 4-H members and volunteers have sewn and donated over 300 pillowcases in 2015! Pillowcases have been donated to hospitalized kids, homeless families, veteran homes, foster children and teens and other community charities. This project was started by the American Patchwork and Quilting Association.
Wouldn't it be great to have 500 pillowcases made by Michigan 4-H members in 2016, and were denoted to local charities? What a great experience to highlight the third "H" of the 4-H Pledge, "hands." Hands "to larger service" reflects 4-H members developing important citizenship skills such as putting the needs of the community before their own and serving others.
Mary Yeomans, a MSU Extension 4-H volunteer in Midland, Michigan, said, "Each of the 4-H clothing project members made a pillowcase. The project involved selecting fabrics, designing a pillowcase and sewing a pillowcase. The pillowcases were donated to an area center for violence and abused families." Best of all, Yeomans reflected, "The 4-H members loved this project." The Midland County Happy Hands 4-H Club made over 15 pillowcases! They were one of many Michigan 4-H programs who made a difference in their community through this project. Believe it or not, Delta County 4-H members sewed and donated over 150 pillowcases!
Visit the American Patchwork and Quilting Association website for additional information on the one million pillowcase challenge for your community, which provides two great pillowcase patterns geared toward teaching children to sew. The first pattern is a "roll it up" pillowcase. Kids will love the "magic" that happens when they turn the tube right side out. The second pattern is a drawstring pillowcase that doubles as a bag! Additionally, you can find a handy supply checklist, advice on preparing for a successful pillowcase event and general tips for sewing with kids. The website also includes other free pillowcase patterns.
4-H clothing and textile experiences are another way to engage young people in STEAM (Science, Technology, Engineering, Art and Math) activities.
Joanne Schultink, MSU Extension specialist emeritus, initiated this community service activity. Sound like a challenge you would like to do? This is a great way to "stitch together" a terrific service activity!