4-H program provides hands-on opportunity to see citizenship in action
4-H Citizenship Washington Focus trip builds citizenship skills in youth who attend and offers opportunity to explore our nation's capitol.
Spending a week in Washington D.C. for a 4-H teen is more than a sightseeing tour. The hands-on educational element is the umbrella under which participants experience the historical areas of Washington D.C., take part in government-related activities at the National 4-H Center and meet and interact with their congressmen on a day at Capitol Hill. A trip to Washington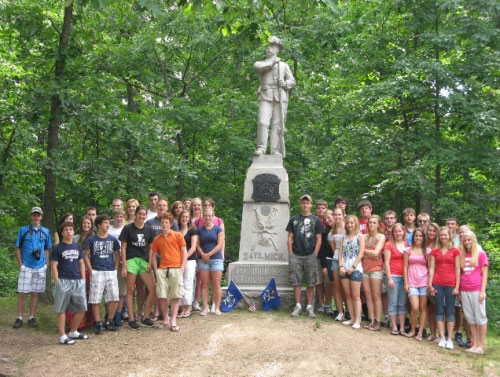 D.C. on the Citizenship Washington Focus (CWF) 4-H trip is often said to be the highlight of a member's 4-H career. They hone their citizenship skills as well as their leadership skills.
Youth who have participated in this week-long experience say they now know their legislators and feel comfortable interacting with them. The evaluation of the 2011 Michigan participants indicated they feel at ease in taking a leadership role in group setting and understand several concepts/skills of leadership such as problem-solving, communication, inclusion, facilitation and decision-making. They grew in their public-speaking skills while working in groups with other states on community service projects, forming and presenting a bill before the entire group of approximately 500 4-H'ers attending CWF. In addition, delegates served on committees that met all week long. They worked on newsletters, organized the talent show, created a video, researched the sights of Washington D. C. and reported on them.
They also pointed out in the evaluation that they gained or became aware of character traits they had. Through the week they showed independence, responsibility and compassion. While visiting the Washington sites they were respectful when visiting the presidential or war memorials, the Senate, the Supreme Court and places like Arlington and the Holocaust Museum.
The Washington Citizenship Focus program is a venue for youth to discover, expand and improve their leadership and citizenship skills. Learn more about becoming involved in leadership and citizenship programs in Michigan.
Did you find this article useful?
---
You Might Also Be Interested In