4-H State Award for Dairy Science applications due February 1, 2016
The Michigan 4-H State Award is the highest honor a 4-H youth may receive in a project area. Learn more about the Dairy Science Award and begin your application today.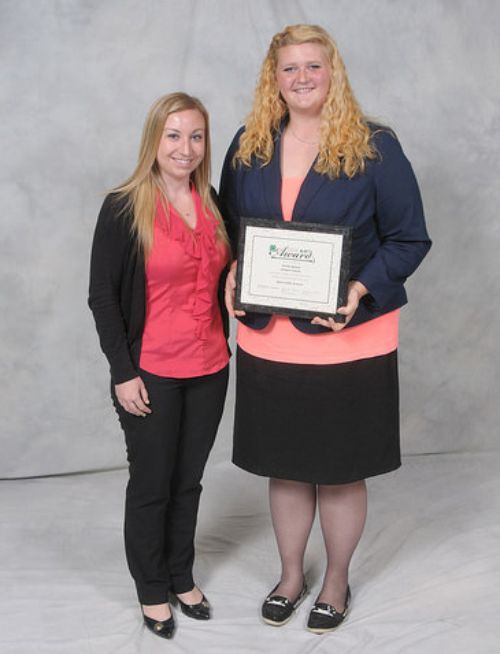 Every year, Michigan 4-H members accomplish great things in their project areas. Youth work hard year round to learn and are constantly striving to improve their clubs, communities, countries and world. Whether these are individual accomplishments or team efforts, youth should be recognized for the impacts they have on the world around them.
One way youth may receive this recognition is through the Michigan 4-H State Awards Program. Michigan State University Extension is proud to honor youth in this way every year. A State Award is the highest honor bestowed upon 4-H members in Michigan. These awards are open to youth ages 13 and older who have been involved with 4-H for at least three years. There are more than a dozen project areas, including one for dairy science, available for youth to demonstrate their accomplishments related to a project while in 4-H.
There are two age-based categories: Junior (ages 13-15) and Senior (ages 16-19), as well as a Group Award (ages 13-19). All applicants will fill out either the individual or group application and submit the completed form to State4HAwards@anr.msu.edu by Feb. 1, 2016. Applications will be evaluated by an expert panel of dairy industry and youth development experts. Youth applicants selected to move forward to State Award Delegates will be notified by March 15, 2016.
Delegates will participate in either a leadership program (Junior Delegates) or an interview with the expert panel (Senior Delegates) at the State Awards Assembly held during 4-H Exploration Days, June 22, 2016. The State Awards Recognition program will occur Thursday morning, June 23, where individual and group winners will be announced during a brunch at the Hunting Club in Spartan Stadium. During this brunch, youth will once again have the opportunity to network with other 4-H members, sponsors of the award and content experts in the varied award areas.
Previous State Award winners find great value in applying for and participating in this event. Shelby Berens of Allegan County, the 2015 Senior Dairy Science winner, said, "I would have to say that I truly enjoyed the interview process as a Senior Delegate. While waiting to be interviewed, I had the opportunity to talk to other State Award candidates and developed new friendships. It was also a pleasure to be interviewed by professionals from the dairy industry. It is a true honor to receive this award and I encourage other 4-H members to apply!"
Encourage youth to apply for the 4-H State Awards in the project area they are most passionate about. It is a wonderful opportunity to recognize outstanding Michigan 4-H members!
For more information or questions, please contact Jennifer Weichel, volunteer specialist, at weichel@msu.edu or 517-432-7606.