4-H teen leader Grace Schmidt will lead us today and tomorrow
4-H teen leaders will succeed, empower and lead us today and into the future.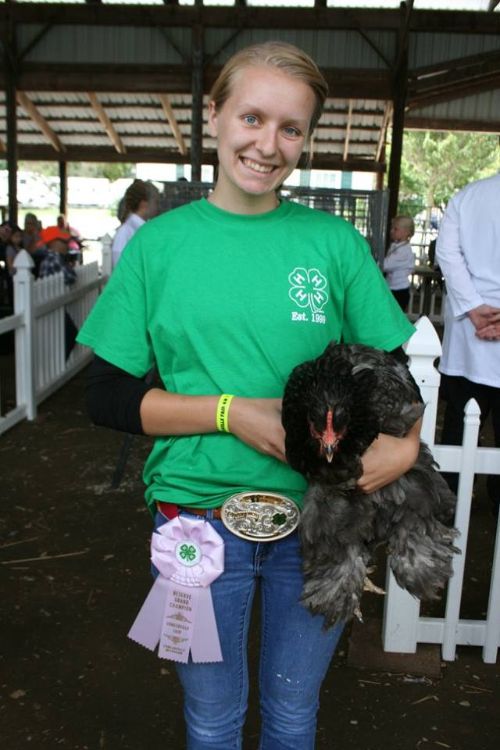 Grace Schmidt is a teen leader in 4-H in the truest sense. She has been a member of Michigan 4-H for 12 years. In recent years, she has been active in the rabbit, goat, poultry, vet science and leadership project areas, but has participated in many others through the years. In addition to her project involvement, Schmidt has served as a club officer and a teen leader through her club role.
Schmidt is also very active at the county level, having served on the 4-H Council, 4-H Small Animal Council and 4-H Teen Council, and participates on the county goat quiz bowl. Schmidt represented Livingston County 4-H when she was showcased on a radio show and asked to share her experiences with 4-H around the areas of leadership.
Schmidt's leadership reaches far beyond the county where she has also co-taught with state staff members from the leadership civic engagement team on three different occasions. This team has worked hard to put the 4-H Guiding Principles to work in all that they do and the principle that youth are actively engaged in their own development is evident when youth work right alongside the educators. The team involves youth in their programs from the development stage to the teaching stage and even the evaluation/reflection stage.
Schmidt has not always viewed herself as a leader, but she is proof that everyone can be and is a leader in their own way. She reflected back on her leadership path, "For a long time, I didn't consider myself a leader. I thought that leadership was just some sort of personality trait that some people had and others didn't. 4-H completely changed my view! I learned that when I led a project on something I was excited about, it was much easier to develop the skills I needed. 4-H taught me that I could be a leader, I just had to apply myself."
Through this leadership path, Schmidt became a member of the State Youth Leadership Council in 2018 and has participated in events such as 4-H Global Leadership Spectacular, Exploration Days, many local workshops and will also participate in Citizenship Washington Focus, a trip to Washington D.C., this summer. She also plans to continue seeking out other great leadership opportunities for the remainder of her 4-H career.
When asked what message she would like to share with youth who are not familiar with 4-H, Schmidt had this to say. "4-H is a program that helps teach valuable skills such as leadership, organization and community engagement in fun and useful ways. Agricultural projects are one aspect of 4-H, but there are countless other opportunities offered to grow these skills. Whether it be public speaking, art, horses or even robotics, 4-H has an outlet for every interest."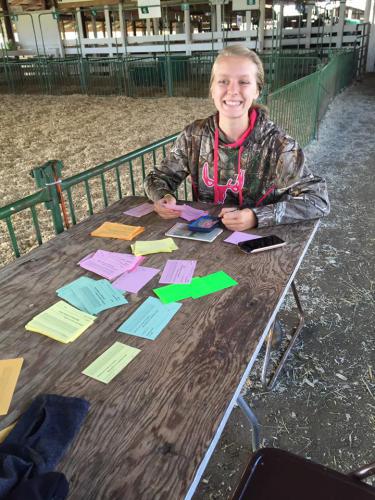 Schmidt also feels that members should always reach beyond the local program and the local fair to truly embrace all that 4-H has to offer. "The fair is an amazing opportunity, but it is just one of the many programs offered during the year. There are many different shows, workshops and trips where your project area and leadership abilities can be furthered. When you get involved in these events, you can take what you learn back to the county fair for an even better program."
Michigan 4-H is proud to have Schmidt as part of their program and part of their team. She will undoubtedly be successful and continue to represent 4-H even as an alumni someday.
"When I am aged out of 4-H, I hope to come back as a leader in my county," said Schmidt. "I look forward to starting college this fall where I know that the skills I have learned in 4-H such as time-management, organization and self-leadership will be very useful as I develop a professional career. 4-H has taught me to set goals and aim to achieve them, even if it is difficult. I look forward to using what I have learned as I go forward!"
To learn more about the Michigan 4-H Teen Leadership program refer to the 4-H Teen Leadership Guide by Michigan State University Extension. This guide can help to explain the role of a 4-H teen leader and guide them and advise them through the project so they can capitalize on the skills they are learning.
If you have any question in regards to 4-H teen leadership or would like training around this topic area, contact the leadership civic engagement team at 4-HLeadership@anr.msu.edu.