4-H youth show their passion this summer
Michigan 4-H members display their passion this summer at fairs throughout the state.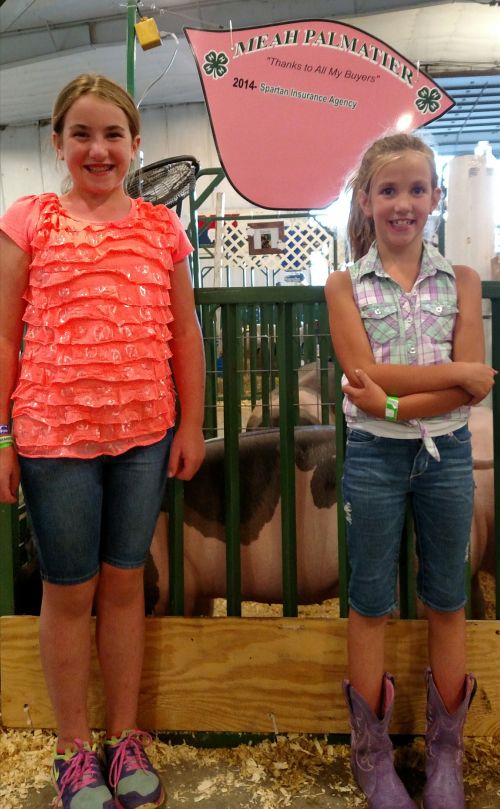 The week of Aug. 3 marks one of the busiest fair weeks in Michigan with 10 fairs taking place throughout the state. Roughly half-way through the Michigan fair season, it's a good time to reflect on what really is taking place at the fair.
Beyond the carnival rides and cotton candy, youth and adults are exhibiting projects they worked on for a great deal of time. Projects vary greatly from an artfully crafted cedar chest to projects made from repurposed tires, to Haflinger horses to sheep and much more. The diversity of projects, including fresh produce, helps illustrate the diversity of agriculture in Michigan as well as highlights the talents of Michigan residents.
One particular group to take note of is youth participants. Fairs are a great way to highlight one of Michigan's greatest resources, our young people. These youth are passionate about their fair experiences, taking pride in the products they produced. One of the longest-term commitments for a 4-H project is having an animal project. Depending on the fair, youth have the opportunity to exhibit beef, dairy, goats, horses, llamas, poultry (although no birds at the fair this year), rabbits and cavies, sheep, swine and potentially even other animal projects.
Youth exhibiting animals at the fair have done much more than made sure their animal is in the pen, stall or cage. These youth continue to learn how to improve the way they care for their animal as well as learned the basics of animal nutrition and behavior. Throughout the process, and also while preparing their animal for competition, youth learn valuable life skills, such as problem solving and team work, as well as a great deal of patience.
So where will you find these youth? Fair week is full of excitement, meeting new friends and connecting again with those they met in previous years. You'll find these youth with visible smiles throughout the barns caring for their animals and waiting for the opportunity to showcase their project to a judge. Yes, many of these youth can be extremely competitive as they walk into a show arena ready to present their animal to the best of their ability. However, keep in mind these youth have cared for the animal project and take a great deal of pride in the project they are exhibiting. These same youth should be following the sportsmanship guidelines of displaying respect for animals, opponents, the "game" and others.
While attending the Ingham County Fair, I had the opportunity to meet two young ladies excited to be at fair and extremely passionate about their animal project. Ingham County 4-H member Meah Palmatier was able to show her two pigs on Tuesday, but knew how important it was to see a project all the way through. Palmatier, like many other 4-H members, made sure to exercise her pigs Monday evening, just like she would at home, to continue to prepare for show day. Assisting her older sister and looking forward to when she can show at the fair was 4-H Cloverbud Ava Palmatier. These two young ladies display the passion they have for a 4-H animal project with their hard work and big smiles.
Looking to find other youth passionate about their project? Find a fair in your in your area by visiting the 2015 Michigan Fairs and Events on the Michigan Association of Fairs and Exhibitions website. Michigan State University Extension also provides numerous resources about the animal science project area and animal care and well-being.