4-H and its impact on one family
This article chronicles the impact 4-H programs have had - and are continuing to have - on one family with a child with special needs.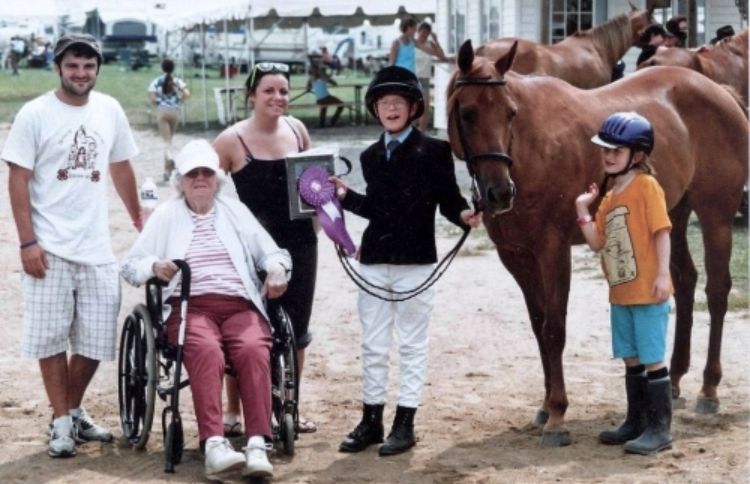 What does impact actually mean? The usual definition involves the effect, impression, influence or force that something or someone exerts on something or someone else. This is one family's story about the impact 4-H has had on their lives.
Lisa Szymecko, wrote to tell us about her 11-year-old son, Harry, who has autism. At age 4, Harry began riding horses through the C.H.U.M. (Children and Horses United in Movement) Therapeutic Riding program. From there, Harry joined the MSU Extension 4-H Proud Equestrians Program (PEP) and the Growing Together Equestrian 4-H Club which has members with and without disabilities. Harry, Lisa and Bonnie DePue, his 4-H leader, all agree these programs changed Harry's life.
In Harry's first year in the PEP program, he used a spotter (a volunteer who walks beside the horse and rider to assist with issues such as control, balance, coordination and posture). Then in Harry's second year, he rode without a spotter and he was selected Grand Champion (see picture right) in his division. This was huge in so many ways because, as Bonnie observes, the goals of these programs include empowering the individual to be victorious over his or her challenges; going as far as possible when he or she is ready; self-assessment and understanding that he or she has value that is not dependent upon - or able to be taken away by - others. By riding without a spotter, Harry enjoyed a rite of passage in that he did what his friends do without assistance. He was making changes in his life and doing so very quickly.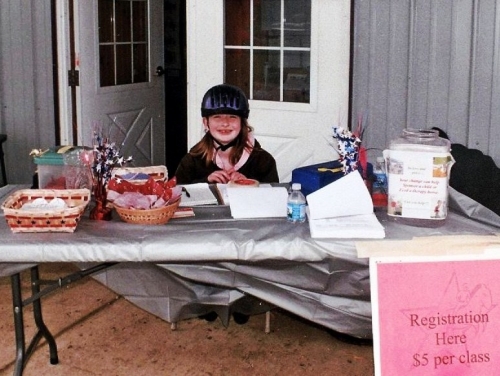 Although challenges remain, Harry is making great strides and not only in learning more about horses and riding, but in increased self-esteem, self-confidence, discipline and social growth. For example, for the past couple of years he has taken great pride in being a greeter for the C.H.U.M. spring gala dinner. He is also part of the integrated drill team that opens both the State 4-H Horse Show and The Ingham County Fair. At last year's fair, he took part in a costume class in which he rode his horse dressed as Rapunzel from the movie Tangled. Harry, himself, will tell you that, through participation in 4-H, his compassion has increased. Over the years, Harry has earned many ribbons for his achievements (including in 4 short years being selected "Young Rider of the Year"). However, as Bonnie points out, the importance is not in the tangible award, but in knowing that "who you are outshines all of that." Just being able to join in, play and share in a community where no disabilities or socioeconomic and political differences are noticed, Bonnie noted, is "a big deal."
What's next for Harry? He loves his canter and dressage classes and is intent on moving forward with his jumping skills. He is also planning to enter other categories (such as chickens) at this year's fair. In addition, through Harry's involvement in 4-H, his younger sister, Isabel (pictured left), has become an active Cloverbud (5- to 8-year-old member of Michigan 4-H). She greatly enjoys being a member of Growing Together 4-H and especially likes cantering on horseback, as well as working with chickens and crafts.
As Lisa sums it up: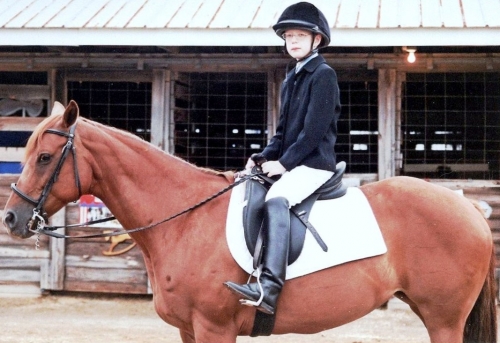 "4-H has given Harry and our family (pictured below celebrating Harry being named Grand Champion) the opportunity to participate at the level that met our abilities. It has challenged Harry and helped him integrate into the community. Inclusion is a big part of our philosophy and 4-H has done that!"

What Bonnie sees as remarkable is that what Growing Together 4-H Equestrian Club is doing is still at the industry's cutting edge rather than being routine. She credits this to the amazing partnership with Ingham County 4-H. As she wrote in a thank-you letter to the county:
"This could never have happened if you, our 4-H family, had not welcomed my students and our participation. You have not kept us at a distance or left us to be a 'demonstration sport' but have made us part of and all that is special about the Ingham County 4-H program. You have not made us different; you have made us family and friends. . . . . . . . . . . . . [The resulting national and international presentations made about the partnership] is being used to help others nationally bring their riders into the 4-H family/local competitions in their own counties."

This story illustrates the profound transformational impact that land-grant education (as embodied in 4-H) can have on both individuals and society. Because of its unique combination of teaching, research and outreach, it brings the newest learning to all and, thus, is a dynamic, never-ending stream of information between those teaching, those conducting research, students and consumers.
(All photos courtesy of Lisa Szymecko)