5 facts related to affordable and clean energy
Youth can take action as engaged global citizens to help ensure that people everywhere have access to energy by learning about Goal 7 of the UN Sustainable Development Goals.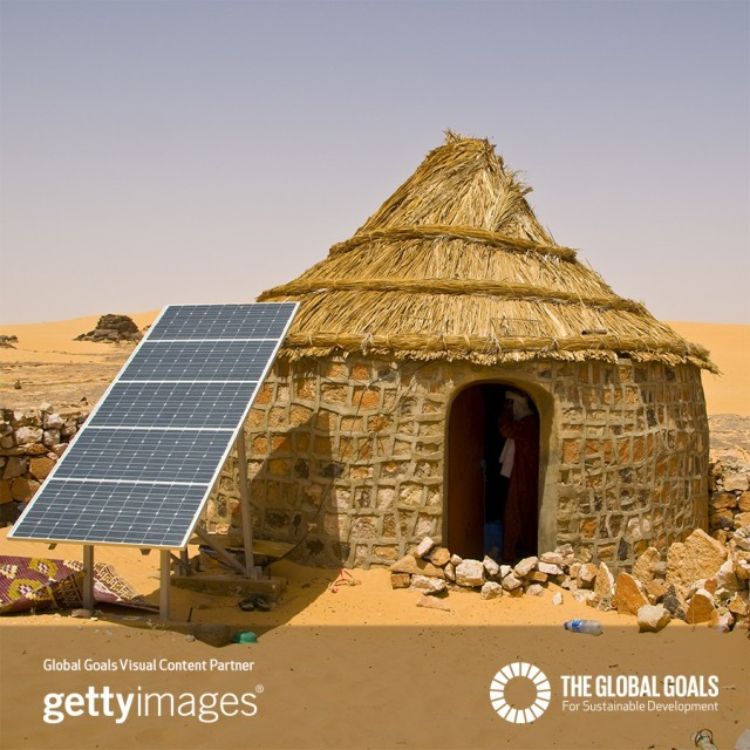 If you are reading this article on a computer or your phone, you are benefiting from having access to energy, which is required to power your device. If you are living in the United States, you also most likely have access to an affordable and reliable source of energy. Your ability to access and use energy is likely much different from the ability of others around the world. One thing you do share in common with every other person on the planet is how we choose to produce and use energy impacts the entire planet. How will we work together to ensure energy equality, where everyone has access to the energy they need to live, work, grow food and do other things that are essential to their wellbeing, while at the same time ensuring the way we produce and use energy doesn't harm our planet? These are the questions world leaders are trying to solve, and young people have an important role to play in coming up with the answers.
Leaders from 193 countries have agreed to ensure access to affordable, reliable, sustainable and modern energy for all people by the year 2030, which is Goal 7 of the United Nations (UN) Sustainable Development Goals. The Sustainable Development Goals are 17 interconnected goals that seek to transform our world by ending all forms of poverty, eliminating inequalities and improving the state of the world's natural and human-made environments through sustained international cooperation and efforts over the next 15 years.
By learning about, taking action and teaching others about the need for affordable and clean energy around the world, young people can play a valuable leadership role in helping to accomplish Goal 7, as well as the other Sustainable Development Goals. Here are five important facts, and some educational resources, related to Goal 7 of the Sustainable Development Goals that can help youth learn and engage as global citizens.
According to the UN:
One in five people lack access to modern electricity. Lacking access to electricity has a major effect on people's lives. According the UN, "Electricity enables children to study after dark. It enables water to be pumped for crops, and foods and medicines to be refrigerated. Modern fuels for cooking and heating relieve women from the time-consuming drudgery and danger of traveling long distances to gather wood." Development over the past two decades has had a significant impact on increasing global energy access, but some parts of the world still lag behind, such as sub-Saharan Africa and South Asia.
Three billion people rely on wood, coal, charcoal or animal waste for cooking and heating. Using these types of fuels for cooking and heating increases indoor air pollution, which is responsible for killing about four million people each year, according to "Sustainable Energy for All: Achieving Universal Energy Access."
Energy is the dominant contributor to climate change, accounting for around 60 percent of total global greenhouse emissions. The effects of human-related greenhouse gas emissions are shared by all around the globe, although the severity of impacts is disproportionate and the sources of emissions are not equal. "America produces 25 percent of the world's carbon dioxide through fossil fuel emission with only 4 percent of the world's population," according to Global Goals.
Reducing the carbon intensity of energy is a key objective in long-term climate goals. Developing and making available sources of low-carbon and renewable energies to more people will help reduce carbon emissions and their harmful effect on the planet, while providing energy to more people around the world.
Women, who are the primary users and managers of energy in many households globally, are more likely to conserve energy than men. According to "Sustainable Energy for All: The Gender Dimensions" by the UN Industrial Development Organization and UN Women, women in some areas use 22 percent less energy than men, and are "more receptive than men to energy conservation efforts and are more willing to change their everyday behavior to save energy."
Goal 7 of the Sustainable Development Goals seeks to provide all people with "access to affordable, reliable, modern energy services," increase sources of renewable energy and improve energy efficiency on a global scale. Efforts in international partnership are underway to achieve these goals. Sustainable Energy for All is an initiative led by the UN and the World Bank to bring together leaders from governments, businesses and civil society from 106 countries and the European Union. While international leaders work together to achieve affordable and clean energy for all, young people can also play a leadership role as global citizens by learning more and taking action on the issue.
Here are some resources and opportunities to help children and youth learn more about global energy:
4-H Power of the Wind Curriculum. Designed for middle school aged youth, this National 4-H curriculum helps young people learn about wind and wind power. A youth guide and a facilitator guide are available to purchase through the 4-H Mall. Along with online resources available as part of the curriculum, this resource will help teams of youth "design, create, build and test a wind-powered device" and "explore wind as a potential energy source in their community." Nine, free, "grab-and-go" activities related to wind and wind power are also available to download from the Power of the Wind website.
Life without Lights: Energy Poverty Photography. For many people, it can be hard to imagine what life would be like without access to electricity. Photographer Peter DiCampo got a firsthand look at the experiences of people living without this access as a Peace Corps volunteer in Ghana. Young people can explore DiCampo's photography to see and learn about the plight of those facing "energy poverty" in Ghana, and in other countries around the world, by visiting his Life without Lights website.
Learn about nongovernment organizations that are working to ensure universal access to energy, such as Practical Action. Practical Action, a UK-based charity founded by E.F. Schumacher, author of the book "Small is Beautiful," seeks to improve global energy access, as well as a number of other development goals, by working "with communities to find practical solutions to poverty." Practical Action offers two, free, downloadable activities on their website to assist in teaching young people about energy and the global goals.
4-H Renewable Energy Camp. Young people looking for an exciting, hands-on experience to learn about renewable energy should consider participating in the Michigan 4-H Renewable Energy Camp at Michigan State University. Campers ages 13-19 create their own biofuel, conduct experiments, tour labs on the MSU campus and visit other locations to see renewable energy in action.
MSU Extension and the Michigan 4-H Youth Development program helps to prepare youth as positive and engaged leaders and global citizens by providing educational experiences and resources for youth interested in developing knowledge and skills in these areas. To learn about the positive impact of Michigan 4-H youth leadership, civic engagement, citizenship and global/cultural programs, read our 2015 Impact Report: "Developing Civically Engaged Leaders."
Other articles in series