A youth's cultural trip to New Orleans
The United States offers many cultural experiences for youth. Encourage a child you know to learn about our country and all it has to offer culturally.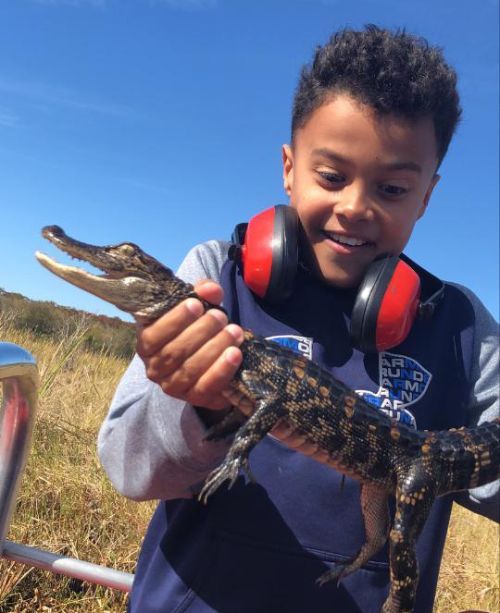 While Michigan 4-H offers international exchange trips for youth as young as 12 years old, youth don't have to travel outside of the United States in order to benefit from some of the same educational experiences that are had during international travel. How does your family encourage curiosity of the world with the younger generation? How do you prepare your child for an independent international travel experience? Here is one idea how you could instill the love for learning and travel in your children.
When I was in Seattle, Washington, about a year and a half ago, I was shopping and noticed placemats of the United States with the capitols. I purchased them for my two young nephews, who were 5.5 and 8.5 years old at the time. I told them that if they learned all the capitols, I would take them to a state of their choice when they turned 10 years old. They were so excited and started learning right away.
In lieu of yearly birthday gifts, how about saving for an educational adventure? What a great way to invest in a child's future by taking them on a trip. Sharing educational experiences with young kids and building a positive relationship has many benefits.
Here are seven reasons why travel is never wasted on young kids, according to Huffpost:
Travel has enhanced their developmental milestones.
Travel has helped them become more adaptable and flexible kids.
Travel has taught them that multilingualism is a fun way to experience the world.
Travel has taught them that though we all look different, we enjoy many of the same things.
Travel has made them more curious and instilled in them a love of adventure.
Travel has encouraged them to try something new.
Travel has made them interested in geography, world maps and airplanes.
Enjoy reading about Ruell's experience with his Aunt Dee Dee and Cousin Chase Rohrer. See how many of the seven reasons why travel is never wasted on young kids show up in the dialogue between the two.
Aunt Dee Dee (D): What did you have to do to go on this trip to New Orleans and how did you decide on New Orleans?
Ruell (R): I had to learn all my states and capitols. I thought it would be a cool experience to go to New Orleans; Arizona was my other idea, but I decided it would be really hot. I thought New Orleans would have very good food plus Louis Armstrong was born in Louisiana and we visited Louise Armstrong park.
(D): How was the airplane ride? Was this your first time flying?
(R): The airplane ride was cool since we watched movies and ate; the cookies were really good. I have flown twice before. The safety video was long but a lot of detail on how to stay safe on a plane.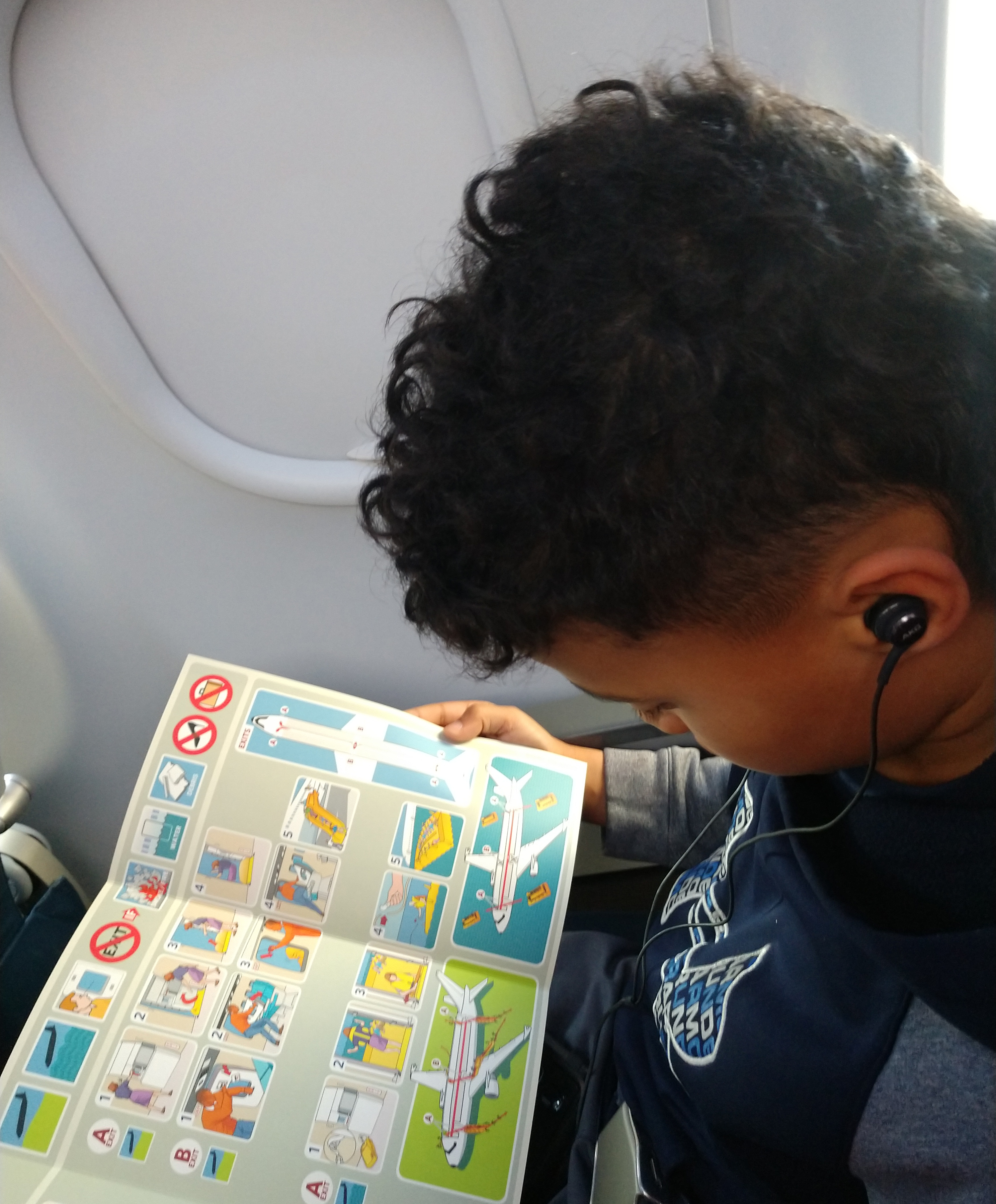 (D): Describe the food you ate in New Orleans.
(R): The alligator nuggets were tasty and very good, actually a little chewy but good with ketchup. The beignets were sweet and flavorful. I have a shellfish allergy so I couldn't eat anything with shellfish.
(D): What did you learn about the swamps of Louisiana? How was the swamp tour educational?
(R): My favorite part of the trip was the alligator swamp tour because of the wind and we were going so fast. We saw alligators and nutria rats. I got to hold a 2-year-old wild alligator, I was really surprised and I was really scared. I thought if I hold it too tight I would kill it, but if I held it too loose it would bite me. Our guide got bit. I felt bad eating alligator nuggets after I held the alligator.
I think it was cool that there are swamps in Louisiana and I saw one and went on a boat around the swamp. I learned about the stuff in the water isn't connected to the ground. The garbage in the swamp is from the flooding from the hurricanes. Nutria rats are small and aren't originally from here but from South America.
(D): What did you think of the French Quarter?
(R): They have different buildings than ours. The music was jazzy and I really liked the music. Bourbon Street was a little inappropriate. I think seeing the Mississippi River was really cool. I don't think anyone in my class has ever seen that before. I want to live down there so I could wake up to hear the jazzy music and see all the friendly people when I walk to lunch. The weather is good too.
(D): What did you learn during the three plantation tours? Which was your favorite?
(R): It made me feel something different, I have a better feeling about slavery and what is happening in the world. The Whitney Plantation was my favorite because of the Whitney children, I leaned that they had weird names like Sucky and Foot. On the wall of angels there were a lot of children who died on the plantation who were 2 years old and under.
Another thing I learned was the meaning of the colors on the plantations. If the main house was white it was a French plantation, but if the main house was colorful it was a Creole plantation. I also noticed the houses were built up off the ground so if there are any flash floods it doesn't flood their home.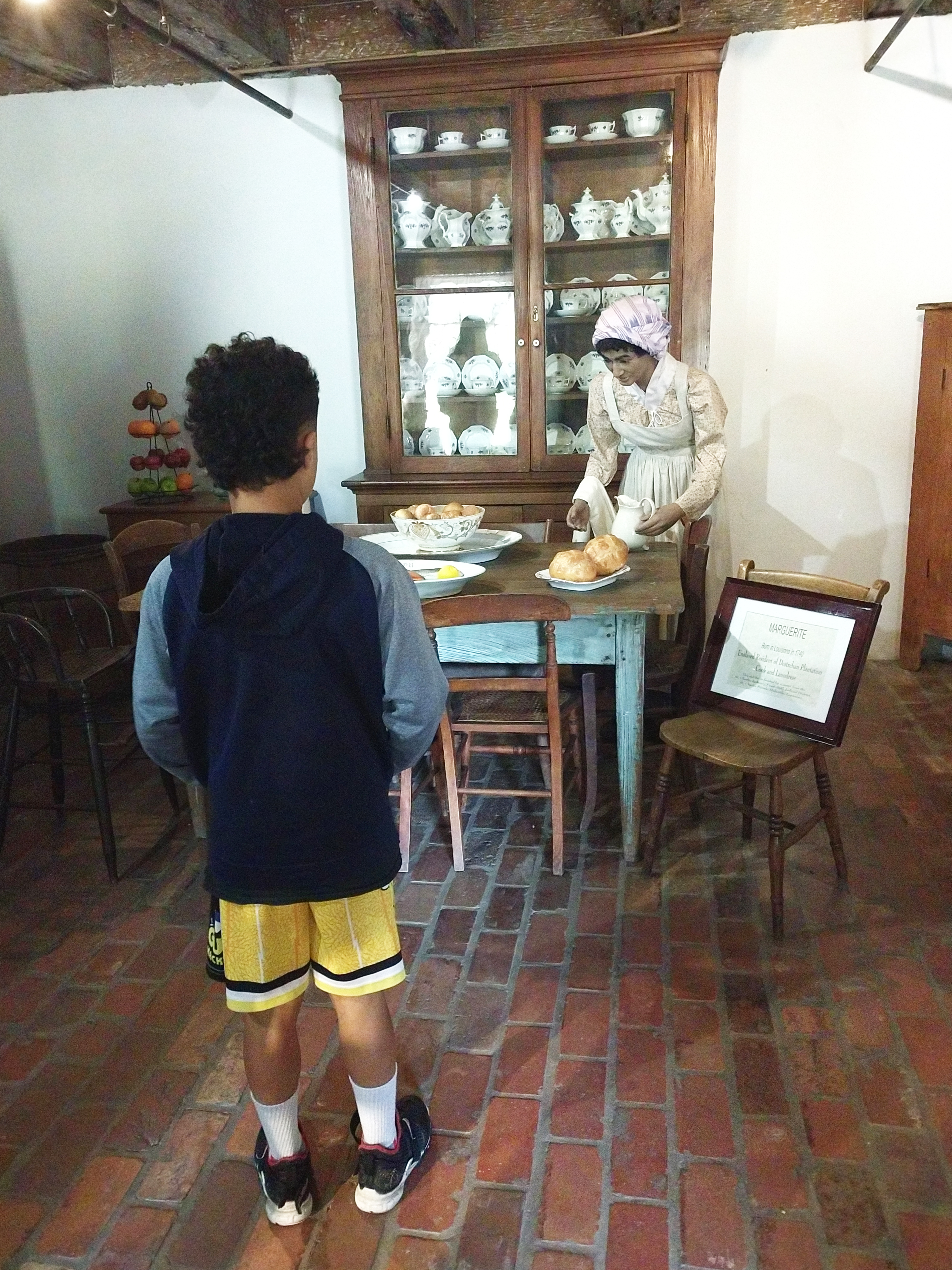 (D): Why did you go to a New Orleans Saints football game?
(R): I play football and love the game, so I asked if we could watch a game while we were in New Orleans. The football game was a cool experience and I enjoyed how it was a close game and Wil Lutz made the winning field goal. The whole stadium was pumped up the whole game, it was so loud.
(D): What did you learn about your Aunt Dee Dee and Cousin Chase?
(R): I think it was a cool learning experience to learn more about my aunt and cousin. I learned that Aunt Dee Dee has actually been in New Orleans before and I learned Chase really likes the beignets.
(D): When you returned to school, what did your classmates say?
(R): I shared photos of my trip with my class and did a presentation. My souvenir was an alligator head, my classmates were really scared of it. They asked good questions and I could see the glare in their eyes that they wanted to take a trip to New Orleans.
(D): Do you have your next trip planned?
(R): I want to go to Baltimore and see the Ravens and Lamar Jackson beat whoever they play. I think there will be a lot of learning experiences there too.
Ruell will never forget the sounds, smells, sights, taste and touch of this experience in New Orleans; it did enhance him developmentally. He never complained about all the walking or long car rides to plantations, and the experience did help him to be flexible and adaptable. Even though Ruell didn't share about the multilingualism he heard on the trip, he did experience French conversations and Cajun dialect. He has already started looking at maps and planning his next trip. I would say this experience was a great success for Ruell.
Start planning your travel adventure with a young person in your life. Invest in developing character, leadership, curiosity and sense of adventure in a child today. All it takes is a reason to learn and explore to open the minds of our youth.
4-H grows youth travelers. If you would like to learn more, visit the Michigan 4-H International Exchange Program website. To learn more about hosting an international exchange student, contact D'Ann Rohrer at drohrer@msu.edu or 231-845-3361.
To learn about the positive impact of Michigan 4-H youth leadership, citizenship and service and global and cultural education programs read our 2017 Impact Report: "Developing Civically Engaged Leaders." Additional impact reports, highlighting even more ways Michigan State University Extension and Michigan 4-H have positively impacted individuals and communities in 2016 can be downloaded from the MSU Extension website.