Add more color to your green infrastructure
Follow these 5 easy steps for painting a rain barrel.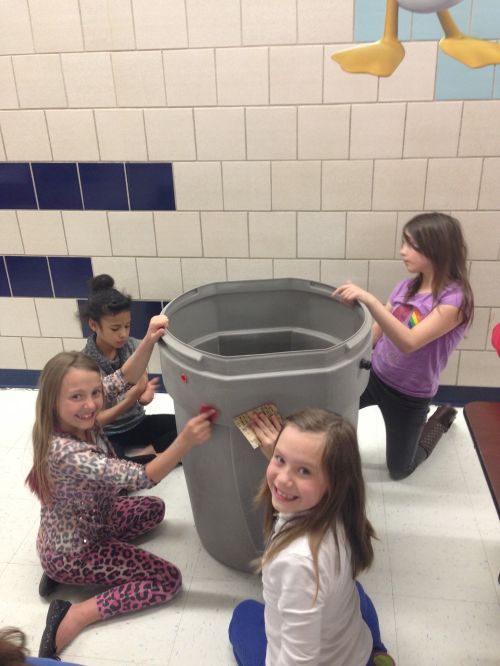 Rain barrels offer an easy green infrastructure option for homeowners to use to lower their water bill and reduce runoff pollution from their property. With a little creativity rain barrels can also boost the curb appeal of your home.
Painting a rain barrel is easy with this step-by-step process:
Step 1: Wash and sand your barrel
Wash the outside of your barrel to remove any dust or debris. A mixture of water and vinegar works well as a cleaning solution. Dry your barrel thoroughly with clean rags.
Use a fine grain sandpaper to rough up the surface of the barrel. This will help the paint adhere to the plastic barrel more easily. After sanding the barrel use a vacuum or dry cloth to clean off any dust left behind from the sanding process.
Step 2: Primer
Prime the barrel with an outdoor spray paint that adheres to plastic. You can find this at your local hardware store.
Do this in a well-ventilated area, preferably outside. You may need to apply a few coats to make sure the barrel is mostly an opaque white color. Let the primer dry overnight.
Step 3: Paint your barrel
Sketching out your design ahead of time on a sheet of paper and then using pencil or chalk to transfer the design to the barrel is recommended. Remember a design that looks great on paper may not always transfer well to your rain barrel. A rough draft never hurts! If you're a little nervous about your artistic talent stencils are a great option as well.
Once you have your design planned out -- start painting. Acrylic paints or any paint designed for outdoor use on plastics will work well.
Step 4: Polyurethane finish
Because your rain barrel will sit outside in all kinds of weather conditions you want to make sure to finish your barrel with a clear coat of polyurethane. This will prevent your masterpiece from fading or chipping. A clear spray polyurethane designed for outdoor use and painted surface works best.
Apply two coats and allow at least 24 hours between coats for the barrel to dry.
Step 5: Install your rain barrel
Rutgers University offers detailed instructions for how to properly install your rain barrel.
Enjoy all of the water conservation and stormwater management benefits your rain barrel has to offer.
Michigan Sea Grant helps to foster economic growth and protect Michigan's coastal, Great Lakes resources through education, research and outreach. A collaborative effort of the University of Michigan and Michigan State University and its MSU Extension, Michigan Sea Grant is part of the NOAA-National Sea Grant network of 33 university-based programs.
Read more on rain barrels:
Bay County youth create, display artistic rain barrels