Akinwumi Adesina, President of the African Development Bank Group (AfDB) and 2017 World Food Prize Laureate, was invited to Michigan State University (MSU), to not only be awarded an Honorary Doctorate of Agriculture, but to impart wisdom and build connections with faculty, staff, and students invested in the future of Africa.
Honorary Doctorate of Agriculture
Nominated jointly by the Department of Agricultural, Food, and Resource Economics (AFRE) and the International Studies and Program's Alliance for African Partnership (AAP), Akinwumi Adesina received an Honorary Doctorate of Agriculture at the advanced degree ceremony on Friday, May 4, 2018. Adesina has profoundly shaped how world leaders think about Africa, the nature of its challenges, and how to effectively address them, while concretely affecting the lives of millions of Africans through the policies and programs that he has led. He stands out among global figures who have dedicated their lives to overcoming poverty and hunger in developing regions. An alumnus of Purdue University, Adesina gave a brief speech at the ceremony, voiced his appreciation to MSU, and said he is now "happily a Boilermaker and a Spartan."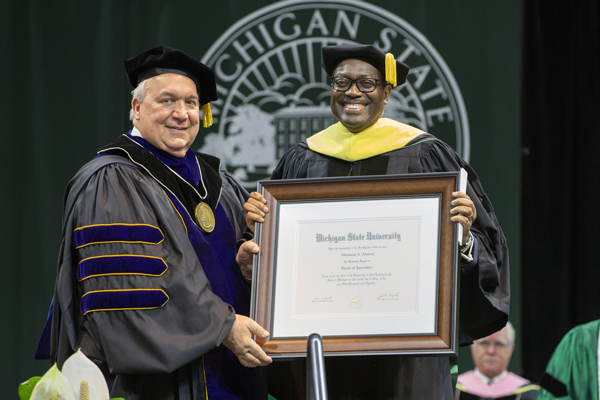 Connections with Leadership
While at MSU, Adesina met with university leaders, including Provost and Executive Vice President of Academic Affairs, June Pierce Youatt, Associate Provost and Dean of International Studies & Programs, Steve Hanson, and Dean of the College of Agriculture and Natural Resources, Ron Hendrick.
Dr. Adesina also met with faculty members from the Food Security Group with the Department of AFRE and the Alliance for African Partnership to learn about the initiatives of the African Development Bank and to discuss potential synergies and partnerships between the Bank and MSU activities.
One of those activities involve a project led by Soji Adelaja. A professor in AFRE, Adelaja had led the development of Nigeria's Northeast Redevelopment plan while on loan from MSU to Nigeria. One component of the plan is the Northeast Study Abroad Program (NESAP), which would provide for 120 northeast students to come to MSU for their undergraduate and/or graduate degrees, and receive added leadership capacity building training. Chinwe Effiong of ISP and Adelaja are currently working with the Presidential Committee for the Northeast Initiative (PCNI) to move the project forward and the AfDB has already invested $215 million toward the overall northeast redevelopment efforts in Nigeria. While at MSU, Dr. Adesina met with Adelaja and Effiong to discuss possible roles of the AfDB in the NESAP project. Adesina provided great insights about the project and highlighted critical success factors for the initiative.
Adesina's visit also coincided with MSU's Year of Global Africa, and the initiative's committee was able to meet with Adesina to talk about African development and how the university can play a role.
Dr. Akin Adesina Day
A dinner event and award ceremony in Dr. Adesina's honor was held at the Kellogg Center on May 3. Adelaja, the John A. Hannah Distinguished Professor in Land Policy in AFRE, was the Master of Ceremony at the dinner event. At the dinner, Lansing Mayor Andy Schor honored Adesina and proclaimed the day, May 3, Dr. Akin Adesina Day in Lansing. "We're humbled and honored that you were able to come and join us in the Lansing area, and we wanted to recognize your achievements and commitment to bettering the world," Schor said during his proclamation. A commendation by U.S. Senator Debbie Stabenow was read at the reception, accompanied by another on behalf of House Leader Sam Singh of the Michigan Legislature, adding to Adesina's honors and awards.
Among the speakers at dinner were Steve Hanson, Associate Provost and Dean of ISP, Titus Awokuse, Chairperson of AFRE, Scott Swinton, AFRE Professor and President of the AAEA. and Richard Mkandawire, Director of the Alliance for African Partnership Secretariat.
"Dr. Adesina is a visionary and transformative leader who has led impactful change that has helped to improve African agriculture and the overall well-being of many people on the continent," Awokuse said. "To have him come to campus and speak directly to us, our faculty, and our students was a great learning opportunity and honor."
After dinner, Adesina was invited to speak about his plans, thoughts, and strategies for African development, and made a speech he titled, "Zipping through 6 Blocks to Accelerate Africa's Development." In his speech, Dr. Adesina gave snippets of his early days growing up in rural Nigeria, as a student coming to the United States, and some of the major influences on his life. He also described new initiatives on youth, gender, agricultural policy, and investment priorities being rolled out under his leadership at the African Development Bank. The full transcript of his speech can be found here.
Time with Students and the Public
Adesina also made himself available to the public and MSU Africanist faculty and students with an informal discussion on "The Changing Landscape of Impactful Research in Africa," at the International Center on May 3. More than 100 people filled the room to hear Adesina talk about his background, his career, and his strategies for Africa. Several of his initiatives were brought up in questions from eager attendees, like his focus on youth investment and activation. "It's not just the future that belongs to young people. It's also the present." Adesina said. "We shouldn't strive to empower youth, but to invest in them instead."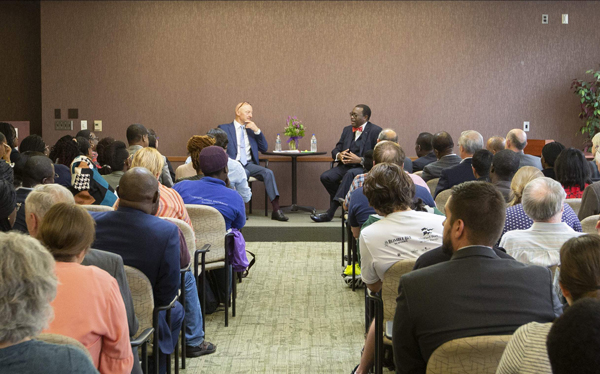 Among other initiatives addressed, Adesina was asked about the role women will play in the development of the continent, which he answered and addressed again that evening to a group of MSU leaders. "I have always maintained that a bird cannot fly with one wing. For that matter, neither can Africa," said Adesina. "For the continent to move faster and to soar to heights unprecedented, it will be because women are no longer excluded socially, legally, and financially, and because Africa guarantees equality for women in access to land, property rights and finance."
"Akin is clearly an accomplished academic, a policymaker, and thought leader. His contributions to Africa have had major real world impacts, and he exemplifies MSU's land grant and global grant values," said Thom Jayne, University Foundation Professor in AFRE and notable MSU Africanist. "We are grateful that he accepted our invitation to come to MSU a day early to engage with faculty and students, to inform us about the African Development Bank's activities, and to explore potential collaboration."
Before he received his honorary degree on Friday, Adesina met with a group of students, selected based on their interest and relation to African development, to answer any questions they had on how they could continue to move Africa forward through development, education, and relationships. The conversation was led by led by Chinwe Effiong, Assistant Dean of the Youth Empowerment Programs.
The Future of Africa
As Adesina stressed throughout the trip, Africa's youth serve a huge importance of investing in the continent's development — sixty-two percent of Africa's population is below the age of 25. Consistent with the AfDB's Youth Investment initiative, MSU is also engaged extensively throughout the university in research and programs to support youth livelihoods in Africa.
Adesina's concluding words to the attendees of his honorary dinner called upon this collaboration, thought leadership, and continued partnership.
"Our future and our solutions are our own. They will be self-made and not imported. They must be transformational, fundamental, and not tangential. They must be permanent and not temporary," said Adesina. "Africa must act boldly. And, Africa must act strategically to deliver accelerated development because the future is already here. It is my strong belief, that together we can make the journey that much quicker and sooner."