Adventures in keeping food safe while outdoors
Camping and boating now that the weather is nice? Store and handle food safely to avoid unwelcome souvenirs – foodborne illness!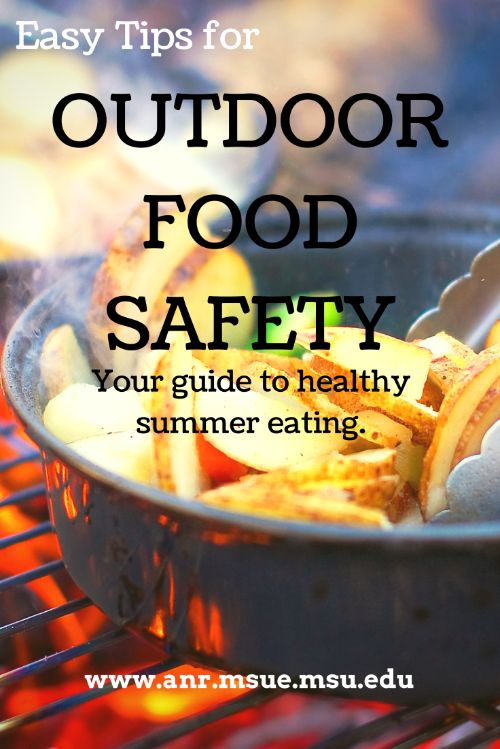 The start of the summer season is just about here and with the warmer weather comes fun outdoor activities such as camping and boating. In many cases, these activities involve preparing at least one meal on the go. It is important to store, handle and serve this food safely to avoid foodborne illness resulting in bringing home an unwelcome souvenir.
Most bacteria do not grow rapidly at temperatures below 40 degrees Fahrenheit or above 140 degrees Fahrenheit. Bacteria multiply rapidly at temperatures between this range and can reach dangerous levels after two hours (one hour if temperatures are over 90 degrees Fahrenheit). Michigan State University Extension recommends that foods be kept either hot or cold and you do not leave them out at room temperature.
It is also a good idea to keep everything clean. Always wash your hands before and after handling food, and don't use the same platter and utensils for raw and cooked meat and poultry. When transporting raw meat or poultry, double wrap or place the packages in plastic bags to prevent juices from other raw food items in your cooler. Soap and water are essential to cleanliness, so if you are going somewhere that will not have running water, bring it with you.
Don't rely on water from lakes or streams for drinking, no matter how clean it appears. Some pathogens thrive in remote lakes or streams and you have no way of knowing what might have died or fallen into the water upstream. Bring bottled or tap water for drinking and cooking.
Deciding on what foods to bring depends on the activity you are planning on. If you don't have adequate refrigeration or means of icing, you will need to rely on more shelf-stable items, such as canned goods, dehydrated foods, powdered milk and fruit drinks.
Plan a menu if you will be cooking at the campsite. This will also help you in determining how much food to bring and avoid possible spoilage if you over pack and are unable to keep perishable items properly cooled. You will need to determine how you will be cooking the food; over an open fire, pots and pans or a cook stove.
Another crucial tool is a food thermometer. You will need this to determine when your meat or poultry is done and safe to eat. Color is not a reliable indicator of doneness, and it can be difficult to tell by the color of food while cooking in the woods.
Planning ahead is important for a fun, food safe outdoor experience. The Food Safety and Inspection Service (FSIS) have recommended these general rules for outdoor food safety:
Pack safely; use a cooler if car-camping or boating, or pack foods in the frozen state with a cold source if hiking or backpacking.
Keep raw food separate from other foods.
Never bring meat or poultry products without a cold source to keep them safe.
Bring disposable wipes or biodegradable soap for hand and dishwashing.
Plan on carrying bottled water for drinking.
Do not leave trash in the wild or throw it off your boat.
If using a cooler, leftover food is safe only if the cooler still has ice in it. Otherwise, discard leftover food.
Whether in the wild or on the high seas, protect yourself and your family by washing your hands before and after handling food.
A few precautions before you begin your outdoor adventure will protect you and your friends and family during and afterwards. Stay food safe by keeping hot foods hot, cold foods cold, your food prep area clean and properly cooking delicious meals in the great outdoors.