Alma hosts Connecting Entrepreneurial Communities Conference Sept. 14-15, 2022
Alma, a unique town in the middle of the mitten, opens its businesses and best practices to help Michigan communities support local entrepreneurs.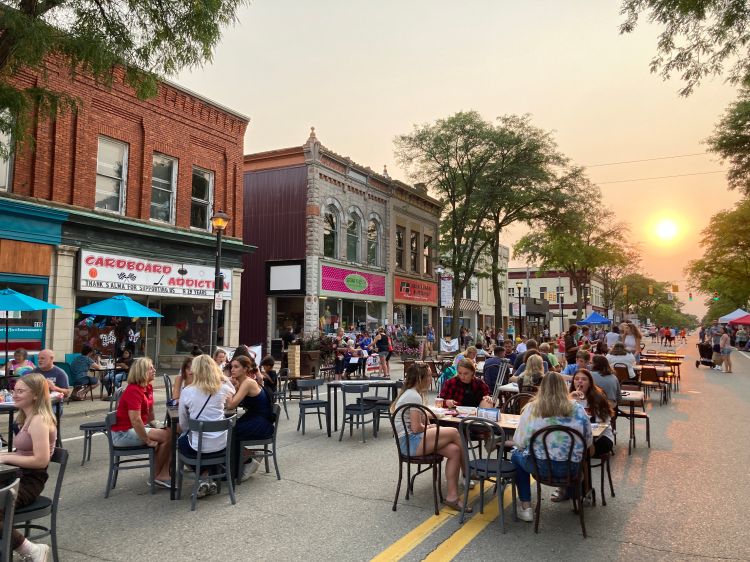 Join us in downtown Alma, Michigan for Michigan State University (MSU) Extension's 2022 Connecting Entrepreneurial Communities (CEC) statewide conference Sept. 14-15, 2022! CEC is a one-of-a-kind conference designed for communities to share enthusiasm, ideas and resources for local entrepreneur support. Hear from state and local professionals as they share best practices to support your community's entrepreneurs. A signature element of the CEC Conference is that all keynotes and sessions are held in multiple downtown community buildings and small businesses. 
Alma is located where M-46 and US-127 come together in the middle of the state. Located in the heart of the mitten, the City of Alma provides a unique community experience for locals and visitors alike. With a population just shy of 10,000, Alma provides many characteristics of a mid-sized city while maintaining the close-knit, small-town vibe that has been the fabric of the City for over 100 years.
With a nice blend of chain stores and locally owned "mom and pop" businesses that serve your every need, Alma encompasses opportunities from shopping to food, entertainment and community wellness services. Businesses like the local ZENlightenment Wellness Center, Block House, Alma Brewing Co., the Gratiot County Players at The Strand Theatre, Child Advocacy, and the Alma Community Arts Center will all serve as host sites for local sessions where you can hear more about their business before each main speaker.
The evening reception on the 14th will be held at the Saravilla Bed and Breakfast, a fully-restored, three story, 11,000 square foot Dutch Colonial home featuring elegant woodwork and architecture that is listed on the Michigan Historic Register. Conference participants will be able to experience their ballroom, billiard room, library, parlor, and huge front porch and decks.
Affectionately nicknamed "Scotland, USA," Alma is best known nationally for its Scottish Heritage. This is highlighted by the annual Alma Highland Festival & Games held each Memorial Weekend and the renowned Highland Arts program at Alma College, whose impact extends throughout the City. Being the home of the Alma College Scots, Alma provides opportunities for the arts and culture that rival much larger cities. The conference will pivot around the restored Wright Leppien Opera House Block, owned by Alma College. Conference attendees will be able to learn about its history and enjoy its beauty as they listen to the engaging keynote speakers of the conference.
Alma takes pride in being a community where people of all stages and walks of life come together to enjoy its many opportunities, unique charm, and community connectedness. In cooperation with Greater Gratiot Development Inc., Alma continues to value and support local entrepreneurship.
Early registration is $85 through September 1, $100 through September 13, and $125 at the door. There will be 6 Master Citizen Planner (MCP) credits given for the conference. Click here to view session and keynote details; to register, click here. For additional information, visit our website.
Bring a community team and see how nice it can be to visit Alma, in the middle of it all!
#inthemiddleofeverything #almami
The MSU Product Center provides business counseling and helps entrepreneurs launch new food products. One specialized service provided is the development of Nutrition Facts labels. Food businesses may contact the Product Center for assistance with labeling.