Alma to host state-wide MSU Extension entrepreneurship conference
Join us September 14-15, 2022, for a one-of-a-kind conference designed for communities to share enthusiasm, ideas and resources for local entrepreneur support.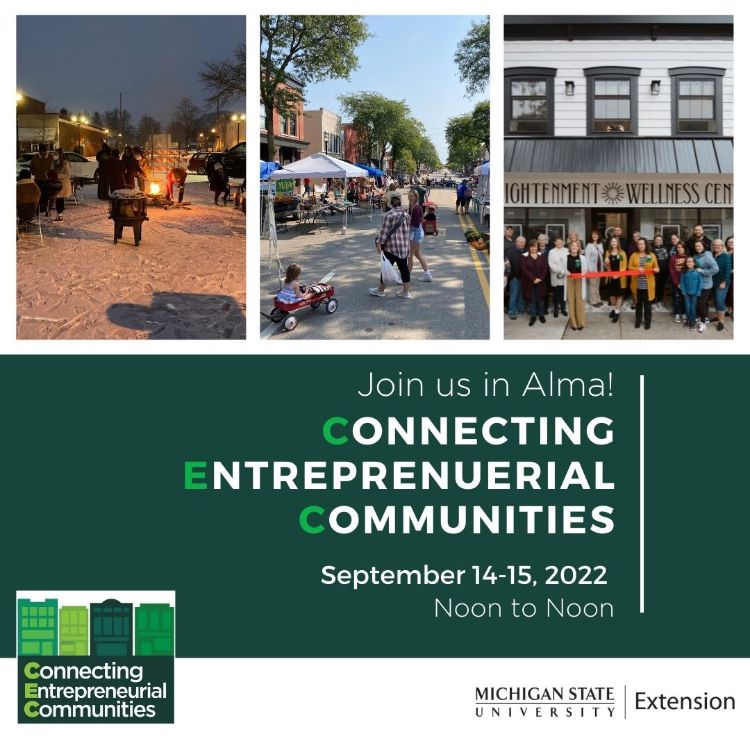 Alma, Michigan will host the 2022 Michigan State University (MSU) Extension Connecting Entrepreneurial Communities (CEC) Conference. The CEC program was created by MSU Extension in 2007 as a way to increase local community knowledge and support for entrepreneurship growth throughout Michigan.
"We understood that to have maximum long-term impact on the Michigan economy, we needed to help communities embrace entrepreneurs," said Dave Ivan, Director of the MSU Extension - Community, Food & Environment Institute, which championed this program. "We formed a "CEC Team" made up of MSU Extension educators with business, community and entrepreneurship expertise and they created the CEC program and conference."
Held in the fall, the state-wide conference moves around allowing participants to experience a new community, network with colleagues, and share ideas and resources. This year, the conference will take place September 14-15.
CEC has a unique approach that embeds the conference in the local community. Twenty-two breakout sessions are held right in local businesses led by experienced entrepreneurs or persons working in economic and community development. This allows participants to learn and more importantly, see, feel and taste what works in any sized community. Themes for the breakout sessions include entrepreneurship, development strategies, housing and tourism, among others. Keynote sessions include an "Alma Aspires" panel discussing the city's community development plan, as well as remarks from Jim Holton, the owner of Alma Brewing Company.
The City of Alma offers a unique community experience for locals and visitors alike. With a population just shy of 10,000, Alma provides many characteristics of a mid-sized city while maintaining the close-knit, small-town vibe that has been the fabric of the city for over 100 years. Alma has a nice blend of chain stores and locally owned "mom and pop" businesses that serve your every need, from shopping and food to entertainment and community wellness services.
Since its implementation, the CEC conference has grown to regularly attract approximately 150 people from 50 communities across Michigan to each conference. Attendees are drawn from a wide variety of backgrounds, including leaders, stakeholders, decision makers, entrepreneurs, government, education and business as well as community champions.
The program has gained national attention and there are now five other states that have or are in the process of adopting this model. In fact, there are typically representatives from a variety of states, as well as Canada in attendance at the Michigan Conference. Registration is now live and is only $85 if you are an early bird.