Alpena High School 'Shipwreck Alley' students bring local Lake Huron fisheries history to life
Great Lakes science and maritime history studies come to life when Alpena High School 'Shipwreck Alley' students work with their community to gather stories and interpret history of local Lake Huron fisheries.
Mapping shipwrecks with marine archeologists, researching Great Lakes fisheries of past and present, and building underwater remotely operated vehicles (ROVs) to explore what lies below Great Lakes waters are just another day at school for students enrolled in Shipwreck Alley. This new course offered at Alpena High School, Shipwreck Alley: Shipwrecks, Science, and the Marine Sanctuary, engages students in local, hands-on, Great Lakes science and history.
This one-of-a-kind course enriches student learning of Great Lakes science and maritime heritage involving students in hands-on learning in connection with Great Lakes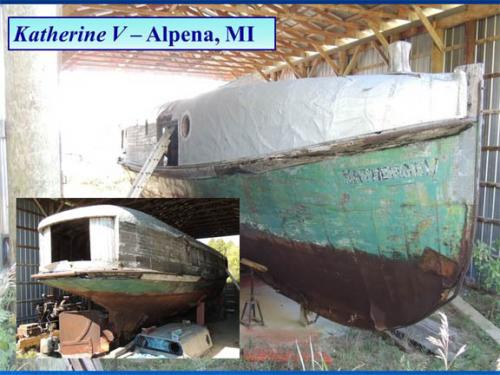 science professionals. An Earth Science elective, students learn about geology and meteorology, Great Lakes ecology and environmental issues—like invasive species. Their studies are brought to life through understanding how people and communities of Northeast Michigan are connected to the Great Lakes through history, economic issues, and maritime archaeology.
While designing the course, instructor John Caplis sought content guidance from the staff at the NOAA Thunder Bay National Marine Sanctuary and secured start-up funding from the Besser Foundation to launch his vision for this project. Kicking off in 2012, the class has since been growing in student numbers. Receiving additional support through the Northeast Michigan Great Lakes Stewardship Initiative and the NOAA Great Lakes Bay -Watershed Education Training (B-WET) program, this place-based education program provides a great example of how humans and history can be woven together through environmental watershed studies.
Expanding into a new project partnership, the class is now collaborating with the Besser Museum for Northeast Michigan, Michigan Sea Grant and Michigan State University Extension to collect oral histories (stories and experiences) as told by commercial fishermen who worked on the waters of northern Lake Huron. According to Caplis, they hope to preserve these stories and learn more about the lives of these men and the health and history of the Great Lakes fishery. Students kicked off their studies of the Great Lakes fisheries utilizing Michigan Sea Grant's publication The Life of the Lakes: A Guide to the Great Lakes Fishery in order to gain a better understanding of environmental, social, and technology changes affecting Great Lakes fisheries ecology and management, history and current condition. Coordinating with Besser Museum staff, students next set out to interview local commercial fisherman, capturing their stories and experiences of fishing on Lake Huron.
Documenting this commercial fisheries history specific to northern Lake Huron, students will help create an interpretive exhibit for the Katherine V.—an historic commercial fishing vessel that operated out of Rogers City and is now housed at the Besser Museum in Alpena. Through their research, they are capturing a record of local history, raising awareness about the value of our Great Lakes, and will be working with the museum to develop the exhibits to interpret our Great Lakes history and heritage. The students' goal is to bring Great Lakes history and the Katherine V vessel back to life through stories of fishing past; and in doing so, seek to encourage a lifetime stewardship, among their community, of the Lake Huron fishery of today.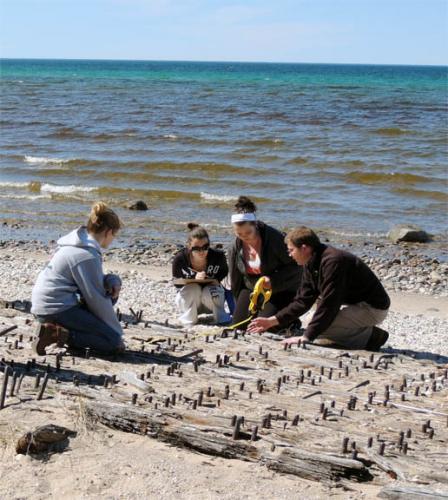 This Alpena High class project reflects a great example of place-based education in practice: students are contributing to their community by enhancing maritime heritage studies and environmental stewardship of northeast Michigan through their education. Through this project, students are learning about science, history, writing, technology, and more during these hands-on, multi-disciplinary learning experiences. Enthusiastic youth are not only learning in school and contributing to their communities; but also exploring firsthand the wealth of careers (working directly with Great Lakes resource professionals) connected with Great Lakes science.
When students apply lessons learned from experts, students find themselves equipped to take on real-world projects like the Katherine V., which is a valuable contribution to the mission and work of the Besser Museum. Students bring to light the value of the Lake Huron fishery, which remains as valuable today as has been through history. Above all, the work of these students in their community—whether studying and mapping shipwrecks or interviewing commercial fisherman—is generating great interest, awareness, educational opportunities and pride among their community.
For more information about the Northeast Michigan Great Lakes Stewardship (NE MI GLSI) Initiative, an initiative supported by the Great Lakes Fishery Trust, and place-based education programming partnerships with Alpena Schools, visit the NE MI GLSI website and the Shipwreck Alley project page.