Amanda Shreve receives Outstanding Young Alumni Award
Amanda Shreve receives Outstanding Young Alumni Award at ANR Week 2019.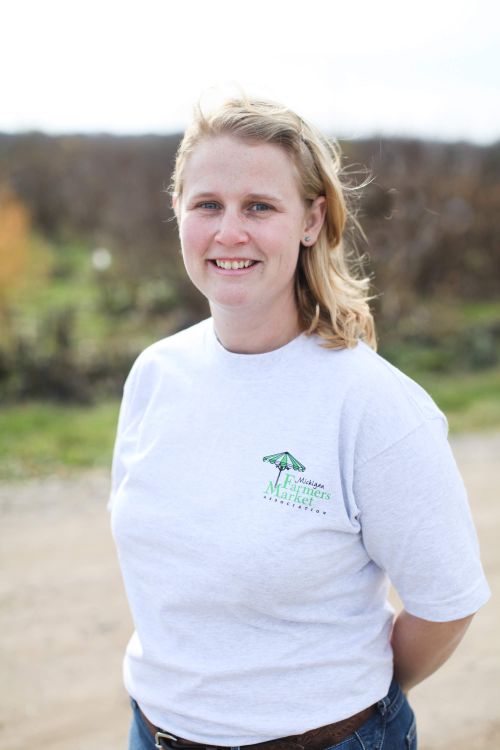 The CANR Outstanding Young Alumni Award honors individuals who have distinguished themselves by obtaining a high level of professional accomplishment and who possess high standards of integrity and character to positively reflect and enhance the prestige of the CANR within 10 years of graduation.
Amanda Shreve is the executive director for the Michigan Farmers Market Association, a nonprofit affiliate of the College of Agriculture and Natural Resources Department of Community Sustainability. In this role, she provides support to Michigan farmers markets accepting the Supplemental Nutrition Assistance Program (SNAP) and leads the expansion of food assistance programs at farmers markets. She develops support resources and curriculum, leads outreach efforts and trains market managers across the state. She also helps enroll Michigan farmers into the Double Up Food Bucks program, coordinates the regular farmers markets at the Capitol, and represents her organization both statewide and in national workgroups, including the National Sustainable Agriculture Coalition, Healthy Kids, Healthy Michigan Community Policy Advocacy Team. Under her leadership, the number of farmers markets accepting SNAP have tripled.
Outside of her professional role, she continues to be an advocate for agriculture, food and natural resources education. She served as the Marshall FFA Alumni president and remains active with surrounding area FFA chapters – helping students, coaching teams in floriculture and judging leadership contests.