American youth perspectives on leadership uncovered in research findings
Youth see themselves as leaders and others as good leaders, and some as having room for improvement in their leadership performance, according to recent survey results from National 4-H Council.
November 3, 2016 - Author: Brian Wibby, Michigan State University Extension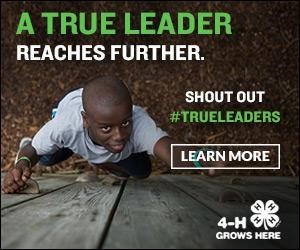 Who do young people in the United States see as the most important, highly performing leaders? Who do they say are low performing leaders who need to do better? How do youth define the concept of "true leadership" and do they believe they have the skills and opportunities to perform as effective leaders? The answers to these, and other questions related to how today's young people define and experience leadership, were answered in the 2016 4-H National Youth Survey on Leadership Findings conducted in February 2016 by National 4-H Council.
"Today's youth define leadership as the ability to take charge of a situation and lead others in the right direction," according to the National Youth Survey report. The research findings, which bring together the results of over 1,500 interviews that were conducted with high school aged youth across the United States, was meant "to capture the pulse of America's youth—particularly using their own words to describe how they feel about their readiness to lead today and tomorrow."
While young people are often portrayed as being disengaged from civic life, the researchers found that most youth (90 percent) "agree they are concerned about the future leadership of our country." In terms of evaluating the leadership performance of adults, young people identified those who are doing a good job leading, and those who could improve their performance. Parents were identified by youth as being people who are performing strongly as leaders, and as people with important leadership roles. Politicians and government officials, on the other hand, are seen by youth as people with important leadership roles, but who are performing poorly. The top six traits of "strong leaders" youth identified were responsibility, hard-working, confidence, intelligence, determination and honesty.
While the research highlighted the ways young people see adults as leaders, it also shed light on the leadership capabilities of youth themselves. According to the research, the majority of young people (91 percent) thought being a leader is important, and three out of four youth see themselves as leaders. Youth leaders reported being involved in work related to areas of interest such as bullying and education. Youth most likely to describe themselves as a leader were most often "male, in the 10th grade, African American, currently holding a leadership role, planning to attend college and described themselves as confident." Those who were most likely to describe themselves as weak leaders are "female, in the 11th grade, white or Hispanic, planning to attend job specific training or no college, currently not in a leadership role and who describes themselves as not confident."
While there are many motivational factors that influence young people's decision to become leaders, humanitarian reasons topped the list. Among those currently serving in a leadership role, young people reported the top influences to becoming a better leader were to help others, make the world a better place improve their community.
While youth identified engaging in leadership as an important and valuable activity, only 14 percent of young people said they were "very prepared" to lead. The top four reasons young people cited for feeling unprepared for leadership were lacking the confidence to lead, not having a plan, not having previous experience in leading and lacking the skills to lead. Youth identified ways that would help them grow as leaders as well, including having more experiences in leadership roles, participating in programs to help build confidence and being encouraged by others to lead regularly.
To learn more about the research findings, download the 2016 4-H National Youth Survey on Leadership Findings.
To learn about the positive impact of Michigan 4-H youth leadership, civic engagement, citizenship and global/cultural programs, read our 2015 Impact Report: "Developing Civically Engaged Leaders. Additional impact reports, highlighting even more ways Michigan 4-H positively impacted individuals and communities in 2015, can be downloaded from the Children & Youth Programming Impact Reports page on the Michigan State University Extension website.
---