Aquatic Invasive Species the focus of Sea Grant Extension Education
Teachers, anglers and the public have opportunities to learn about Aquatic Invasive Species at upcoming events.
Michigan State University has received a $25,200 grant from the Environmental Protection Agency's Great Lakes National Program Office to provide education designed to prevent the introduction and spread of live Aquatic Invasive Species (AIS) though domestic commerce and international trade. The educational program design is targeted toward consumers, teachers and students, and anglers. It is also aimed at reducing the spread of AIS by way of canals and waterways, while promoting effective measures that outdoor recreationists can take to help protect natural resources and their uses.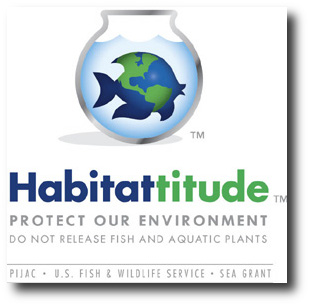 Michigan Sea Grant Extension will collaborate with the Michigan Science Teachers Association (MSTA) and the
Michigan Alliance for Environmental and Outdoor Education (MAEOE) to conduct teacher-training workshops in each of the two project years. Workshops will feature HabitattitudeTM, intended to prevent the release of unwanted live-study specimens by teachers and students, and AIS and climate change activities that educators can use to teach their students about how climate change will impact the spread, frequency, and impact of AIS. Curriculum materials and classroom activities will be demonstrated to make educators comfortable with the use of the products, insuring its infusion into existing science curricula.
Four workshops are planned for the two years of the project. The first of these will be conducted as part of the MSTA 2013 Conference, which will be held this year at Eastern Michigan University. This MSTA workshop – Habitattitude: Learning about Aquatic Invasive Species and Climate Change – will be held on March 8. Participating teachers will receive $50 stipends in addition to instruction and classroom materials, and teachers must register through the MSTA website. A second teacher workshop will be held later this year, in October, when MAEOE holds its 2013 conference on Belle Isle in Detroit. The workshops will be repeated in 2014.
Michigan Sea Grant Extension will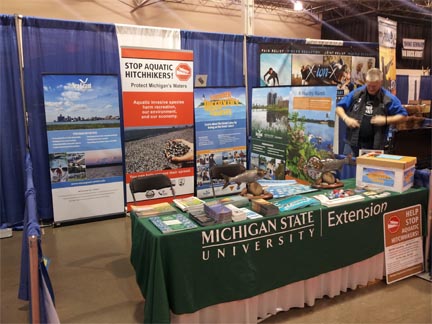 have, once again, an educational display at Outdoorama, where anglers, boaters, hunters, campers, hikers, conservationists, and wildlife enthusiasts will gather to celebrate the outdoors. The 2013 Outdoorama runs from February 21-24 at the Suburban Collection Showplace in Novi. The display will feature information from Michigan State University Extension and Michigan Sea Grant, including Habitattitude and other AIS materials, as well as information on the implications of climate change on the Great Lakes, and on the 2013 Summer Discovery Cruises season, which will feature educational cruises focusing on AIS and weather.
---