Are you introducing solids to your baby too soon?
It's important to understand why babies are not ready for solid foods until they are at least four months of age.
The Center for Disease Control (CDC) conducted a study, published March 25 in the journal Pediatrics, in which they surveyed 1,334 mothers. The main finding of the study is that 40 percent of mothers gave their babies solid foods before the recommended minimum of four-months-old. As many as nine percent of mothers reported giving solid food as early as early as four weeks.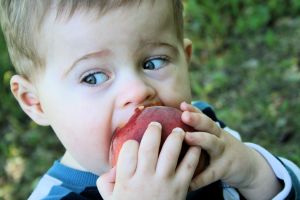 Michigan State University Extension says that it is important to understand mothers' motivations and reasons for introducing solid at such an early age. Among top reasons that mothers gave when asked, was their belief that their baby was ready for solid food and that giving solid food would help their babies sleep through the night. The survey also suggests that mothers are not aware of the recommended guidelines.
For the past 20 years, the American Academy of Pediatrics (AAP) have been advising parents to wait until their baby is 4- to 6-months-old before introducing any solid food. Until then, babies should not be fed anything but breast milk or formula. Additionally, the AAP warns parents that the head and neck control of babies needed to safely introduce solids are not fully developed until around four months. The study also notes that early introduction of solid foods may increase the risk of some chronic disease. According to a researcher involved in the study, babies younger than four months don't have the proper gut bacteria needed to process solid foods safely.
If you're wondering when your baby may be ready for solid food, consult with your pediatrician and look for signs your baby is ready.
To learn more about infant feeding or to attend a nutrition education class, contact your local MSU Extension office.