Armyworm infestations reported on Upper Peninsula farms
Scouting corn and small grain fields is essential in managing armyworm outbreaks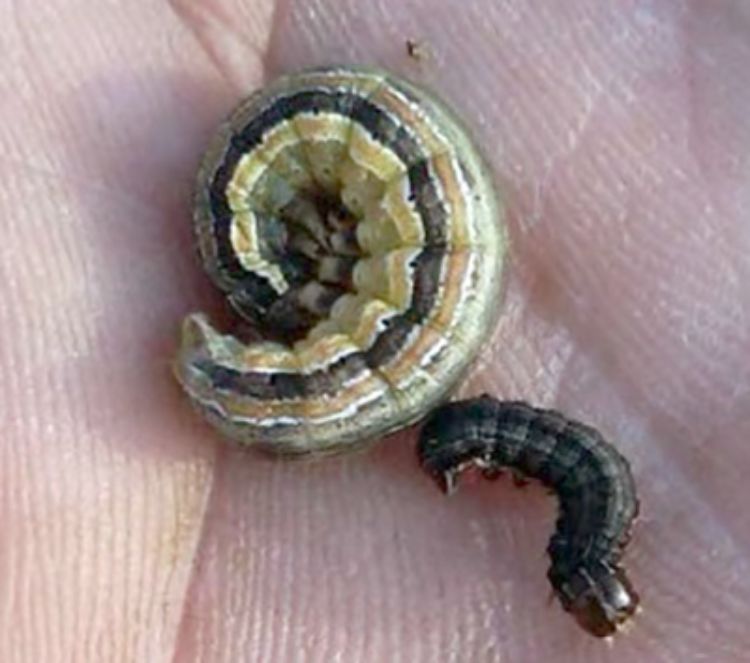 Reports from Upper Peninsula farmers in the Dickinson and Menominee counties indicate that farmers should be looking carefully for armyworms in small grains and corn fields. Armyworms do not overwinter in Michigan. Armyworm outbreaks occur when adult moths are blown in from southern states in the spring.
No damage on this field was noted by the farmer following a casual inspection on Tuesday, July 22, but by Thursday, July 24, plants were defoliated.
Armyworm larvae are most active at night and on cloudy, overcast days. Larvae are most easily found and counted during the morning hours in the first few hours of daylight. In the afternoon during sunny days, larvae will seek shelter on the ground under plant debris and in corn they may be found down in the whorl. Scouting in the afternoon will take patient observation, searching through the debris on the ground and shaking plants to find the larvae.
Armyworm outbreaks tend not to be uniform. Armyworm traps placed on Schoolcraft, Alger and Menominee county farms have not caught significant numbers of armyworm moths. The only way to be sure if control is needed is to scout fields for larvae.
According to Michigan State University Extension field crop entomologist Christina DiFonzo, the threshold for armyworms in wheat is two or more larvae per square foot at heading. The threshold for corn is 25 percent of plants with two or more larvae per whorl or 75 percent of plants with one larva per whorl. By no means should farmers treat field for armyworms without first determining the threshold has been reached. It is also important to note that if the larvae are 1.5 inches or larger, they will soon stop feeding and pupate. At that point, spraying will not make economic sense.
Always read and follow label directions if an insecticide application is warranted and be sure to note the pre-harvest interval.
More information can be found at the following resources: