Aronia berries
Another superfruit for midwest growers?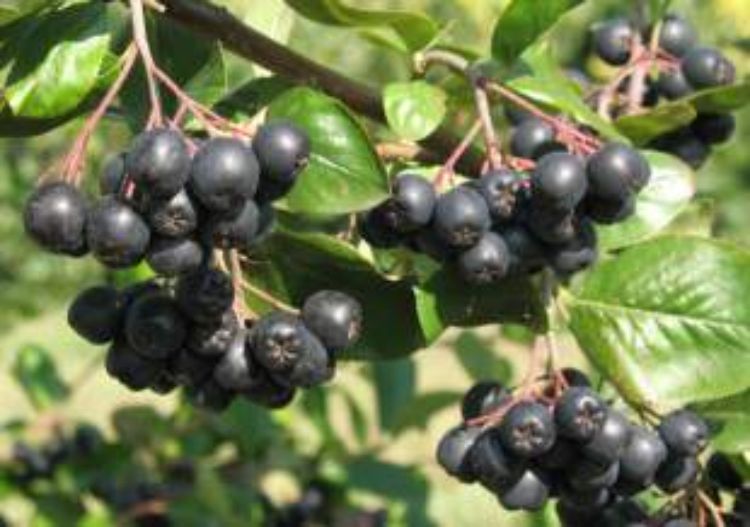 In recent years, consumers have expressed increasing interest in healthy eating. Of particular interest to consumers and scientists alike are so-called "superfoods". Superfoods are generally defined as fruits and vegetables with high levels of health-promoting antioxidants (Wang et al. 1996), that have the potential to prevent disease (Santos-Bulega et al. 2000). Dark red and blue colored berries have been found to have the highest levels of beneficial antioxidants (Wu et al. 2004a). Levels of health promoting antioxidants can vary quite considerably between species.
Wu and colleagues (2004b) tested the levels of anthocyanins in seven cultivars of black currant (Ribes nigrum), red currant (Ribes rubrum), six cultivars of gooseberries (Ribes grossularia), chokeberry (Aronia melanocarpa), and elderberry (Sambucus nigra). The researchers detected thirty-one different anthocyanins in the berries tested. Chokeberry was found to have the highest total anthocyanin concentration of all berries tested (1480 milligram/100grams) of fresh weight), whereas gooseberry had the lowest (0.07 mg/100 g of fresh weight). Aronia berries have been found to have beneficial effects on human health (Kulling et al. 2008), including improvements in plasma glucose levels in diabetics (Badescu et al. 2015) and aronia juice has demonstrated to be useful in treating obesity disorders (Zielinska-Przyjemska et al. 2007).
Multiple resources exist for producers interested in growing aronia berries. The University of Maine has compiled an abundance of pertinent information, including culture and harvest, plant sources, and even a production cost simulation. The Midwest Aronia Association is a non-profit organization that was formed in 2008, whose mission is to promote and improve all aspects of aronia production. The Agriculture Marketing Resource Center has multiple resources for value-added agriculture including Aronia Berries. The topics, which may be particularly useful for prospective producers, include an overview of commercial production, fertility, pruning, plant spacing, cultivar selection, pests and their control, harvesting, and uses. "Developing production, processing, and marketing of aronia berries on small family farms in southeast Iowa" also provides promising results of a competitive grant project that sought to encourage production and marketing of aronia berries.
As more consumers demonstrate an increasing interest in healthy eating, the demand for nutritious fruits and vegetables will likely increase. Aronia berries may be another superfood with the potential to provide benefits to both producers and consumers. If you are interested in aronia berries, please visit the sites referenced above or contact your local Michigan State University Extension office. For more information on other interesting fruits please check out MSU Extension Bulletin E-2747, "Unusual fruit plants for gardens in the north central region".