The art of scientific thinking: Why science is important for early childhood development
Ideas for developing the mind of a young scientist.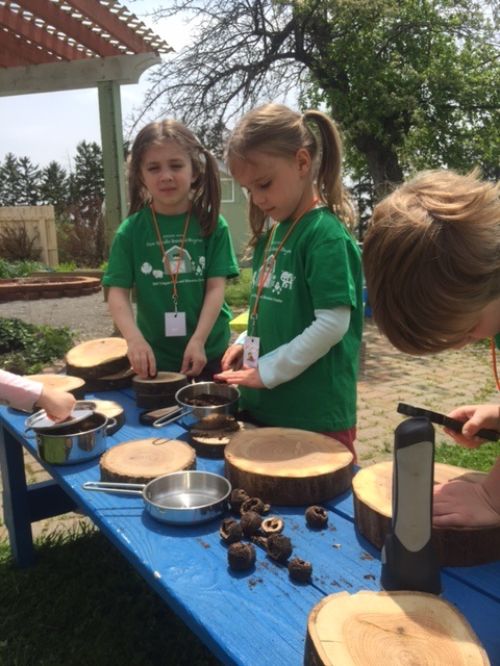 We all utilize scientific thinking as we go about our daily lives, such as when we peer out the window to assist us in deciding what to wear, when we experiment with mixing ingredients to bake a perfectly moist cake or when we attempt to figure out why the tomato plants aren't thriving this season. In the book, "The Art of Scientific Investigation," W.I.B. Beveridge wrote, "The most important instrument in research must always be the mind of man." The use of scientific thinking helps us make sense of the world.
Learning skills to support scientific thinking is an important part of a young child's development. As children progress into adulthood, using scientific thinking truly becomes an art. When encountered with a problem, knowing which skills to utilize, the manner in which to use them and how to work through a process in a logical fashion are essential to growth in understanding. Scientific thinking skills include observing, asking questions, making predictions, testing ideas, documenting data and communicating thoughts.
As parents and educators, we can model scientific thinking and provide opportunities for young children to experiment, explore and engage in science play and practices in order to build a solid foundation for future application of the scientific inquiry process. Michigan State University Extension recommends the following ideas to encourage the development of scientific thinking in young children.
Share in their wonder
The outdoors provides endless experiences for discovery play. Use your senses to feel, listen, smell and taste all nature has to offer. Catch and observe insects, build your insect a home with moss, twigs and special discoveries or lay on your back, close your eyes and make a game of identifying the sounds around you.
Ask open-ended questions and encourage questioning
The goal with questioning during science inquiry will not be to focus on reaching the correct answer, but instead to encourage young children to communicate their thoughts and ideas based on their current level of understanding. Over time, they will slowly build on what they know as they continue to make sense of the world they live in. Young children are naturally curious about science. Asking questions such as, "What do you notice about the pot of water boiling on the stove?" or "What do you know or wonder about that honey bee on the flower?" can often lead to some interesting insights and discussion, which provoke further investigation.
Document discoveries
Art can be a useful method to remember and refer back to previous experiences. Use your camera to capture discoveries and create a book. Provide your child with a nature journal or better yet, each of you keep a journal to share in the experience. Combine natural materials with art materials to create nature collages, paintings or sculptures utilizing your findings. Revisit these works of art and retell the story of the adventures you shared together in creating them.
Provide materials that provoke new ideas and experimentation
The children's books "What Do You Do with an Idea?" by Kobi Yamada and "Rosie Revere, Engineer" by Andrea Beatty are brilliantly written and illustrated to inspire young children to dream up a project while demonstrating what can happen when you believe in and challenge yourself. "Loose Parts," a term coined by architect Simon Nicholson, can lead to hours of creative play and experimentation. Gather materials on a nature hike or browse through your recycling bins for tubes and containers.
Build connections within your local community
Programs in your area that provide young children the opportunity to collaborate with peers can increase content knowledge, as well as support social and emotional growth. Outside programs can supplement and help young children build connections to the learning taking place at home or in the classroom. A variety of exposures to quality science programs and facilities assist in forming positive attitudes towards the field.
Look for science-related programs offered by your local nature center or library. MSU Extension offers a farm and nature-based Farm Sprouts preschool program for 3-to-5-year-old children at MSU Tollgate Farm and Education Center in Novi, Michigan. There are also opportunities for young children to participate in science experiences at the Michigan's 4-H Children's Garden, MSU Museum and Abrams Planetarium on the main campus in East Lansing, Michigan.
Engaging young children in scientific thinking can lead to growth and learning not only for the intended audience, but also for those working with them. Be sure to take advantage of those great science moments as they arise or better yet, head outside and create your own!
For more information about early childhood education, environmental and outdoor education and other topics, visit the MSU Extension website.