Asparagus: Cooking series A-Z with SSG Sadler - Part 1
Native to Europre, asparagus is largely produced in Michigan.
This cooking series consists of some foods that you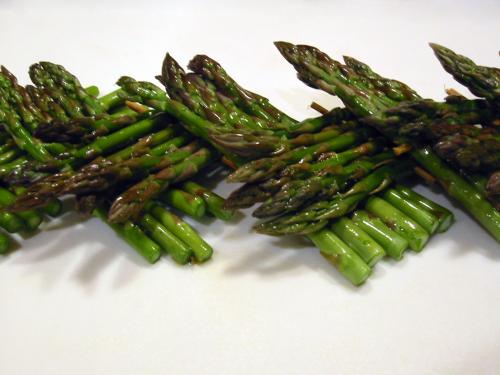 may or may not have eaten before. Each article will discuss a different food and will consist of the origins, recipes and health benefits. Food is important to us and understanding its true benefits by learning about different types and how to consume it, is beneficial to a diversified education and a healthy lifestyle.
Although asparagus is native to Europe, according to the Michigan Asparagus Advisory Board, Michigan ranks third in the nation in the production of asparagus, yielding 25 million pounds annually. Asparagus comes in a few different colors; white, purple and green. You can steam, roast, sauté, boil or bake asparagus. You can also consume it raw. Asparagus is very high in potassium, vitamin B6 and folic acid. It is packed with antioxidants and aids the body in fighting against certain cells that may form cancer in the body. Asparagus is a great complement to many meals and also provides color to any food presentation.
Michigan State University Extension encourages you to visit your local farmer market, where you will be able to find asparagus. You will also be able to fins asparagus in many grocery stores.
Stuffed chicken breast is a great way to incorporate the vegetable into your meal.
Stuffed chicken breast with asparagus & swiss cheese with brown rice
Makes 4 servings
4 chicken breast - boneless and skinless
4 tsp. EVOO extra virgin olive oil
4 slices of baby Swiss cheese
Steamed asparagus
Garlic powder
Onion powder
Pepper
Salt
Brown rice
Chicken stock reduced sodium
2 Tbsp. butter
Toothpicks
Directions
Preheat oven to 350 degrees Fahrenheit
Follow the directions on the bag for brown rice. Instead of water, use chicken stock and 2 Tbsp. of butter. Let it simmer. You can do this on the stove or in a rice cooker. Be prepared as brown rice takes about an hour to cook.
Take your boneless skinless chicken breast and firmly pound it until it is flattened out. You can put it in a gallon size Ziploc bag to pound. After you have flattened the chicken, rub the olive oil all over it. Season both sides with garlic powder, onion powder, salt and pepper. Next place your asparagus and baby Swiss cheese on one side of the chicken breast and roll it up. Take two or more toothpicks to secure it in place. Place it on a baking sheet and repeat until all breasts are completed.
Bake in the oven from 20 to 30 minutes. Make sure there is no pink and that the juices that are flowing from the chicken are running clear. Use a thermometer and insert it into the middle. You should have a 160 degree Fahrenheit reading to safely consume
After the rice is finished cooking, place a half a cup in the middle of the plate and place your stuffed chicken breast atop of the rice and enjoy.
You Might Also Be Interested In