At-home soil-test kit makes lawn and garden maintenance simple and effective
Michigan State University (MSU) Extension home lawn and garden soil test mailer and soil test website give home gardeners the tools they need to grow healthy plants, protect the environment and save money.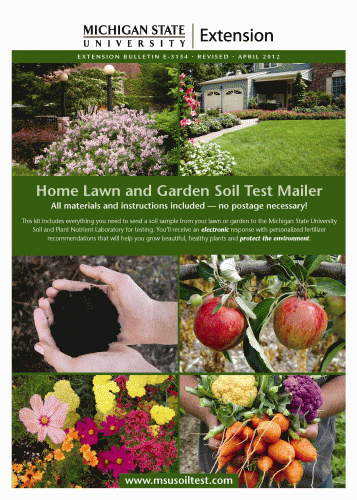 Growing healthy lawns and gardens just got a little easier. The Michigan State University Extension home lawn and garden soil test mailer (Extension Bulletin E-3154) is now available just in time for the spring gardening rush. Helping gardeners determine what type of fertilizer they need, if any, and in quantity, the MSU Extension lawn and garden soil test self-mailer is now available for sale for $25 through the MSU Extension Bookstore and county offices.
Plants take up nutrients from the soil and over time nutrients need to be replenished. The only way to identify the particular nutrients needed is to get your soil tested – doing so determines what nutrients are in the soil and at what levels. Only when soil is tested is it possible to determine how much and what type of fertilizer is needed for the plants you want to grow. Over-applying fertilizer can pollute water resources, negatively impact plant health and waste money.
The kit contains everything needed to process a home soil sample (lawn, vegetable garden, tree, shrub, flower or fruit). The kit includes instructions for preparing a soil sample, a guide to collect information regarding the soil to be tested, a plastic soil sample bag and a postage-paid envelope to return the sample to the MSU Soil and Plant Nutrient Lab for processing.
This comprehensive product provides results and information for the following tests/determinations: pH, phosphorus (P), potassium (K), calcium (Ca), magnesium (Mg), CEC, soil organic matter, soil type, personalized recommendations for fertilizer and any needed pH modifications.
Once the sample is analyzed at MSU, the customer will receive an email with an electronic link to the MSU Soil Test website where their customized recommendation can be viewed. A number of additional educational tip sheets and tools are also available, such as calculators to determine the area to be fertilized and the amount of nutrients a particular fertilizer product will deliver.