Attend the 2014 Michigan Garden Plant Tour and MSU Plant Trial Field Day
Join MSU and six young plant producers to view new and existing plant selections and how they perform in different settings.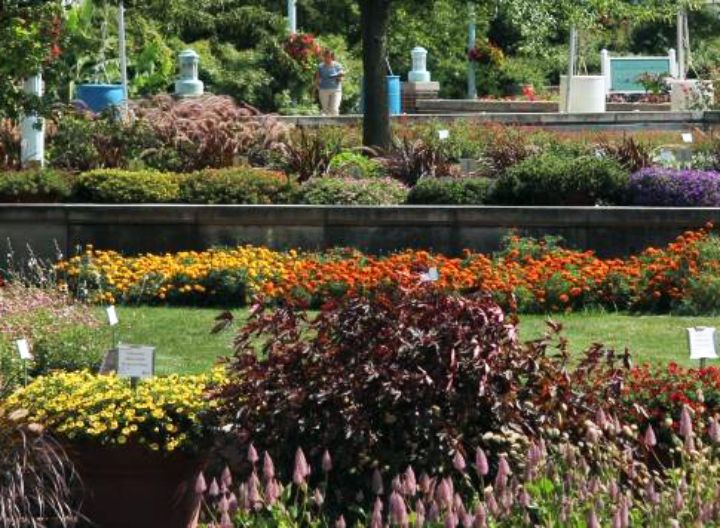 Everyone in the commercial floriculture, nursery and landscape industries is invited to participate in the annual 2014 Michigan Garden Plant Tour that runs from July 28 to Aug. 8, 2014. The tour includes the Michigan State University Trial Gardens, the MSU Extension Grand Ideas Garden and six stops at young plant producers' trial gardens, including C. Raker and Sons, Four Star Greenhouse, Mast Young Plants, Pell Greenhouses, Spring Meadow Nursery and Walters Gardens. Expect to learn about a wide range of ornamental crops, including popular commercial brands of annuals, perennials and shrubs. This is a terrific way to observe plant performance at different locations and grown under various conditions, both in the ground and in containers.
The Michigan Garden Plant Tour is completely free, but the companies would appreciate that you contact them in advance so they know you'll be coming.
Part of this tour includes the 2014 MSU Plant Trial Field Day that takes place on Tuesday, Aug. 5, 2014 from 8:30 a.m. to 2:15 p.m. Come view the Trial Gardens in a beautiful landscaped setting and learn about and evaluate a wide range of annuals, perennials, vegetables, herbs and native plants. The day includes a morning session featuring MSU garden Director Art Cameron and MSU trial garden Manager Daedre Craig, whom will discuss plant performance, ornamental characteristics and special needs of plants. This year, there is also an hour-long session on "What's the buzz? Pollinators, pesticides, and the evolving ethics of American gardeners." For this important and timely topic, entomologists and horticultural Michigan State University Extension specialists will bring us up-to-date on the latest news in pollinators, native insects, and pesticides such as neonicotinoids. In the afternoon, there will be guided tours of the gardens and the options for informal discussions of plant performance and care.
The MSU Plant Trial Field Day costs $42 per participant and includes parking, refreshments and lunch. For a complete schedule and to register, please visit the 2014 MSU Plant Trial Field Day website.
Did you find this article useful?
---