Attracting and retaining employees: An introductory workshop at the Great Lakes Expo
Agricultural labor program on Dec. 6, 2022, features regional specialists in employment and human resources.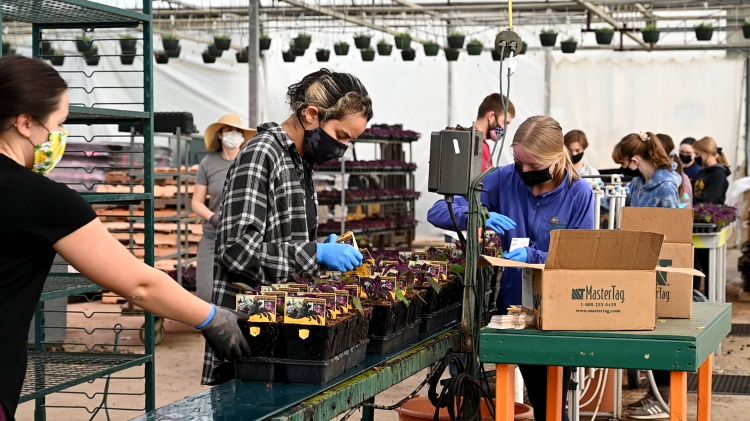 Are you struggling to find enough employees? If you manage a business in the food and agriculture sectors, then the answer to that question is probably a resounding "Yes!" The 2022 labor market has been a challenging environment and businesses are struggling to find and keep high-quality employees. The food and agriculture industry is no stranger to this problem, but the highly competitive market has made it much more difficult for our industry to find the help it desperately needs.
In recognition of this critical issue, the Michigan State University Extension (MSU Extension) farm management team will host a 3-hour concentrated learning session on labor attraction and retention at the Great Lakes Expo in Grand Rapids, Michigan, from 2 – 5 p.m. on Dec. 6, 2022. This introductory workshop is designed for small and medium-sized businesses who are interested in improving their Employer Value Proposition (EVP) by making their operation a more enticing place to work. Attracting and retaining key employees is one of the cornerstones of resilient companies and crucial to the long-term viability of any business. Companies that are able to draw in and keep quality employees enjoy many benefits, including the realization of their investments in worker training, retaining key staff and their organizational knowledge, and maintaining customer satisfaction.
This program, featuring a combination of university researchers and industry specialists, covers the fundamental concepts of attracting and retaining employees, including:
Employer Value Proposition

Company culture and branding

Wages and benefits

Valuing current employees
Although it has been designed for beginners, this workshop can serve as an excellent refresher for more experienced labor managers.
Featuring local and regional subject experts
Angela Hall
Angela T. Hall, JD, PhD, is an associate professor at the Michigan State University School of Human Resources and Labor Relations. She is also an affiliated faculty at MSU's College of Law and MSU's Center for Gender in a Global Context. Angela received her B.S. in management/international business from New York University's Stern School of Business, her JD from Florida State University's College of Law, and her PhD in business administration from Florida State University's College of Business.
Hall's research interests include diversity and inclusion, leadership, employee accountability, employee engagement, employee legal claiming, technology at work, international human resource management, and employee personality testing. She is the author of 29 academic papers and book chapters, which have been cited nearly 5000 times. Hall is a frequent instructor for executive education programs and is often cited in the popular media. She is a regular consultant to both Fortune 500 companies and small to medium-sized organizations. Hall has also authored learning modules and cases for the Society for Human Resource Management. Hall is the host of a podcast series, People Talk with Angela Hall. People Talk is available on Spotify, Amazon Music, Apple Podcasts, or wherever you download your favorite podcast shows.
Ashley Batteen
Ashley Batteen is the recruitment, professional development, and DEI officer for the Michigan Department of Agriculture and Rural Development and leads the Food and Agriculture Workforce Solutions for the State of Michigan. She spent 12 years in the education industry, most recently at MSU in the Career Center working with hundreds of employers to build their recruiting strategy. She enjoys supporting and coaching employers through their recruiting challenges.
Karrie Brown
Karrie Brown serves with West Michigan Works! and the Agribusiness Talent Council as the industry council lead. She earned her master's degree in nonprofit administration and has a passion for promoting opportunities and benefits within the community to help employers thrive. She lives in Sparta, Michigan, with her husband and three children.
Stan Moore
Stan Moore is a farm business management educator with Michigan State University Extension. He is based in Antrim County and offers farm business management educational programs in northern lower Michigan and the eastern Upper Peninsula. His special interest areas are labor management, Telfarm program support, farm financial analysis and farm transition.
Registration
The curriculum for this mini-course has been designed for flexibility on discussion topics and the in-person format provides an opportunity for meaningful conversations in a cordial setting. Be sure to bring all your questions and ask the experts!
Registration is now open! Early birds can save $20 by registering before Nov. 15, 2022. Attendees and exhibitors can find registration, lodging and trade show information at the Great Lakes Expo website.
Questions? Feel free to contact Jeremy Jubenville or Florencia Colella with the MSU Extension farm management team.