Awards and recognition
Each year the CM program participates in commercial and residential competitions through the CMP 491 class. The students placed 7th in this year's commercial competition, and 6th in the national residential competition.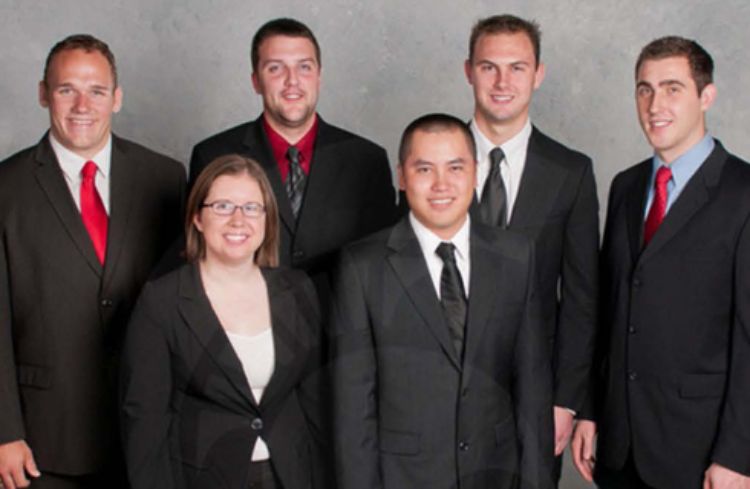 Competition Teams
Each year the CM program participates in commercial and residential competitions through the CMP 491 class. The course focuses on students putting their education and experience into action. Experience from both the classroom and industry are employed to develop construction estimates, schedules, cash flow projections, management and organization, marketing and risk analysis, land development, and green building principles.
By taking these skills and developing mock construction companies the students produced proposals for residential and commercial construction projects from around the nation. The students placed 7th in this year's commercial competition for a new outpatient center for the Veterans Administration in Walla Walla, Washington.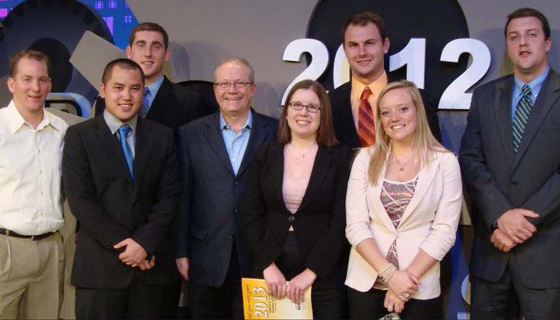 The national residential competition was a 22-acre undeveloped site located in Huntsville, Alabama, in which the students had to design residences. The students placed 6th in this national competition hosted by the NAHB at this year's International Builders Show held in Orlando, FL. The team includes Ken Gottschalk (coach), Te Jun Cheng, Steve Arnold, Rachel Wilber, Tom Wolf, Amanda Karaba (interior design) and Damon Mestdagh. Also featured in the photo is Steve Nellis a CM alum.
2012 Outstanding Alumni Award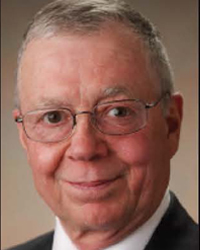 It is the pleasure of the MSU Construction Management and Industry Advisory Association to honor John Clark, the Agriculture and Natural Resources Alumni Association's 2012 Outstanding Alumnus Award recipient.
John has more than 40 years of experience in the construction industry. The eldest of Leon and Frances Clark's eleven children, John began his career in construction working summers and during school breaks, for his father's company. His first projects were completed in the industrial/manufacturing plants of General Motors' Lansing facilities.
Since then he has completed construction projects for commercial, industrial, and institutional customers throughout Michigan. John is well respected among owners, such as Michigan State University, University of Michigan, State of Michigan, General Motors, Kellogg Company, Clinton County, Ingham County, among others.
John is currently Chairman of the Board for the company his father founded. He is actively involved in the executive direction of Clark Construction Company projects. John plays a key role in business development and helps direct company policy. He is a mentor to the construction industry and a tremendous asset as well as a community leader.
John's commitment to Michigan State University is exemplified by his generous gift to the School of Planning, Design, and Construction, Construction Management program. Clark Construction Company has been actively involved in the Construction Management program's Career Fair, and Annual Golf Outing. Clark Construction Co. has hired several MSU alumni as full-time employees. John encourages members of his management team to be actively involved in the MSU Construction Management Alumni and Industry Advisory Association.
A 1967 graduate of the MSU CM program, John Clark is a well-respected leader of a successful Michigan company — and also a stakeholder in the School of Planning, Design, and Construction, since he has hired several MSU Construction Management graduates who are now the leaders of his company. John has given generously to support the Construction Management program and is an outstanding example of what a "Spartan" alumnus should be.
Class of 1961 Returns to Campus

In June of 2011, former CM alumni return to campus for a few days. The alums toured campus and the Human Ecology building, where the programs resides, and had brunch with faculty and CM alums. Reflections of drafting with T-square and hand written estimates were shared with new technologies of BIM 4-D and 5-D capabilities with computer-based estimating and scheduling techniques.
Director Witter provided and overview of the changes over the years along with the long-term vision of the industry and program. The class of 1961 started the CM Alumni Board that has paved the way to current MSU Construction Management Alumni and Industry Advisory Board that is 36 members strong today. Alumni who visited campus included M. Brennan, Harry Durbin, Jack Hayes, Ken Gottschalk, Gary Murphy, Jeff Adcock and Larry Morton.
Construction Management Hockey Team

The Construction Management Hockey Team was back in action for the 2012 IM Hockey season. The "Dekes of Hazard" comprised of sophomores, juniors, seniors and professors went undefeated in the league, but lost in semifinals to the 2011 Champions. The team was assembled by students seeking networking opportunities, team building skills, and to continue the sport they grew up playing. Games were played from March through April here on campus in Munn Arena.