Back to school preparation
As summer begins to draw to a close, children all around the country are starting to get ready to go back to school. Is your child ready to return? Take time to plan ahead for a smooth transition back!
August 23, 2013 - Author: Carrie Shrier, Michigan State University Extension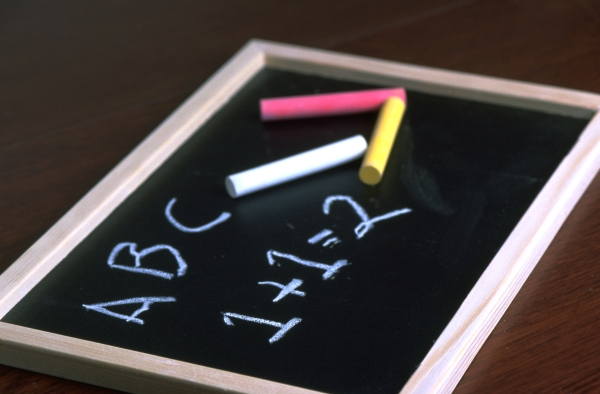 With August upon us, the days are starting to grow shorter and the back to school sales have appeared in stores. Before long, the bells will ring meaning kids will head back for another year of friendship and learning. With a few weeks to go before the first day, it's time to stop and think if your child is ready to return to school? Have your bedtimes drifted far too late? Is your child sleeping in long past the time they will need to be ready to rise and shine? Have you remembered to complete those summer homework packets? Taking time to plan ahead for school success can make that back to school transition much smoother!
Did your child's teacher send home a summer packet of suggested work? If so, take some time to work on completing it. Summer months can take progress off of a child's previous academic year. In fact, research shows that most children loose about two months of grade level equivalency during the summer months. Continued engagement in learning opportunities throughout the summer can help stem an academic slide.High quality summer camps such as 4-H and other after-school programs, expose children to further learning opportunities and are valuable far beyond the social experiences for kids. If your teacher did not send home a summer packet, it's easy to find grade level appropriate work for your child on the Internet. Try a keyword search online for "third grade math" or "sight words for first grade." You can visit the Common Core State Standards webpage to double check if your results are age appropriate.
Today, internet, social media, smart phones and tablets are just a few ways you can engage your child in fun learning opportunities. Visit websites such as Pinterest to find boards full of "pins" with ideas for learning games to support your child in whatever area they might need prior to the start of the school year. Apps such as Spelling City, Scholastic's Storia, Meteor Math and many many others will support critical skills in a fun and engaging way! Taking the time to make these learning opportunities fun and engaging will help take the dread out of back to school prep.
Another critical step in preventing that summer slide is continued engaging in reading. Michigan State University Extension experts recommend continuing engagement in literacy activities throughout the summer months. If you signed up for a summer reading program through your local library, be sure to continue participating! Encourage your child to read daily; find time to curl up in a hammock in the sunshine with a good book or read by a flashlight in their tent while camping. Reading should be embedded in daily activities. Visit your local library to check out new and engaging books, and while you are there, ask if teachers have left any recommended lists for summer reading, or even copies of summer work. Your librarians can also be a good source for recommendations on learning games for the computer and other educational support materials.
While it's important to continue the academic work throughout the summer, it's equally important to begin getting routines back in order as well. With the sun shining well past nine in the evening, many times children have drifted into later bedtimes, playing outside with their friends late, and then sleeping later in the morning. According to the National Sleep Foundation, school-age children who are five to 12 years old need 10 to11 hours of sleep a night. It is best to begin slowly moving your child's bedtime back until you are on your school year schedule. For instance, if your child is currently going to bed at 10 p.m. and waking at 8 a.m., but will need to go to bed at 8 p.m. and wake up at 6 a.m., you should take time to slowly move the bedtime back from 10 p.m. to 8 p.m., over a span of two weeks or more. Bedtime would move from 10 p.m., to 9:45, then 9:30, then 9:15 and so on, until you have reached your goal time. Don't forget to also begin waking children up sooner. Taking time to adjust schedules ahead of time can be the key to a successful first few weeks at school!
And finally, do not forget the importance of children's diet in their learning. Children should be eating well balanced diets, with a variety of foods including fruits, vegetables, dairy, proteins and grains. MyPlate.gov offers great research based information and interactive tools for children and parents to begin looking at their diets. Trimming out excess quantities of sugar and caffeine that may have slipped in over the summer can help kids begin to be ready to focus again. With the harvest season upon us, there are many options for locally grown fruits and vegetables. Consider taking your child blueberry picking or to a farmers market for some fresh tomatoes and corn! Include them in meal preparation and discussions about the importance of balanced diets in order to feel healthy and ready to learn. While you are planning meals, don't forget about breakfast! Research shows that children who eat breakfast score higher on IQ tests and other cognative skills then children who do not.
With a little bit of work ahead of time, your child can be ready to walk in the door the first day of school healthy, rested and fully prepared for another great year of school!
---