Back to school success
It's time to start preparing for a smooth transition back to school this fall.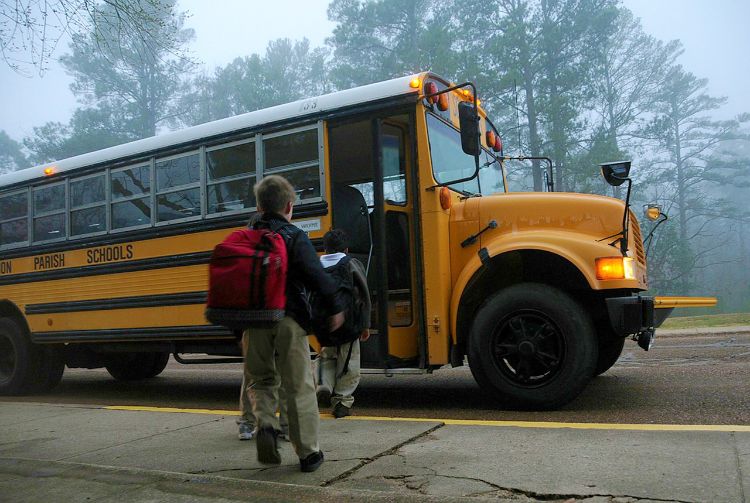 It's hard to believe it, but most of Michigan's school-age children are more than half-way through their summer break. As the last few weeks of summer stretch out before you, it's time to think ahead about how to make the transition back to school as smooth as possible. Michigan State University Extension recommends the following tips for a successful start to the new school year:
Reestablish bedtimes
It's easy to let the routine slide in the summer. Bedtimes slip later and later, and summer mornings invite a slow start to the day. If you've let your family routine slide this summer, it's time to start thinking about that school year routine. Elementary-age children should be sleeping an average of 9-12 hours a night, according to the American Academy of Pediatrics. What time does your child have to go to bed to catch the bus or make it to school on time? How long do they need to get ready, eat a healthy breakfast and not be rushed in the morning?
Regular sleep deprivation has been found to cause difficult behaviors and health problems including irritability, difficulty concentrating, hypertension, obesity headaches and depression. Children who get enough sleep have been shown to have better school performance, more consistent behavior, better memory and a healthier immune system. Make earlier bedtimes a priority in your household for everyone, not just the kids. Set a good example!
Keep a regular, daily routine that includes activity during the day. Limit screen time before bed and create sleep-supportive bedrooms, with limited toys and no electronics. In the last two to three weeks before school starts, gradually begin putting children to bed earlier and waking them in the morning so that first day of school doesn't come as a shock.
Begin planning for school needs
Although many Michigan schools do not go back until the first week in September, August is the month of back to school sales. What does your child need for school this year? Have they grown? What clothes fit? Is it time for a bigger backpack to hold the school supplies? Work with your child to clean and organize their closets and drawers ahead of back to school shopping trips.
Are school supplies out of your family's budget? Look for community backpack events where school supplies and backpacks, even wardrobe basics like new socks, are provided for free. If you're shopping for school supplies, consider purchasing extra to donate to these types of drives for families in your community. It's great for all children to be able to come back to school feeling prepared!
Avoid calendar chaos
School year success often relies on a well-planned schedule. As you're signing up your children for activities, keep the calendar at hand. Plan for a central location for your family calendar, including a place for things such as lunch menus. If you're using a paper calendar, post it in a central location for the family to be able to see what's coming up. If you are using a digital calendar, select a program that allows you to add multiple users so your partner and older children can access the calendar and know what is coming up.
Many schools pre-publish their school year calendar, so dates such as back to school nights and parent and teacher conferences can already be noted on your calendar. Try to preserve time the week before school and the first weeks of school for your children to relax and have downtime. It takes a lot of emotional and physical energy to return to the school year schedule, and supporting that by allowing downtime at home is very helpful.
Fight morning madness
Mornings are a very stressful time in many homes, a rush to gather lunches and backpacks, find missing socks and misplaced gym clothes before the bus arrives at precisely 8:07 a.m. The time to fight this is in the evening. Think ahead about what you can do to improve the situation. Consider creating a checklist for children to follow (photos for younger kids) so they can take ownership of packing their bags and preparing for the next day. Have your children complete their morning preparation at night including laying out clothes, finding shoes and packing lunches.
As we head into the latter part of summer, plan morning play dates and outings so you and your kids can practice getting up and going early. Summertime is a great time to begin working on increasing your children's responsibilities. As you encourage your children to be responsible for their personal belongings, toys, etc. and to learn to follow a checklist of steps, they will be increasingly able to handle school mornings independently.
Prepare for school
Is your child heading to kindergarten? Perhaps they switched schools? Take time in August to introduce them to their new school and prepare for school. Go play on the playground at school this summer, and see if you can make playdates with children who will attend the school. Read books to incoming kindergartners about starting school, like "The Kissing Hand" by Audrey Penn, "Kindergarten, Here I Come" by D.J. Steinberg, "The First Day of School" by Mercer Mayer and "The Night Before Kindergarten" by Natasha Wing.
If your school offers a back to school picnic, school walk-through or meet the teacher night, do your best to attend. These events help build children's confidence in their ability to be successful at school. They are important times to meet new friends, rekindle old friends and meet the new teacher.
While the start of the new school year might be a month away, it's already time to start thinking what you can do to support your children's success this upcoming school year. Taking time to prepare and plan will ease the transition back to school, and make everyone more relaxed and successful this year!
For more information about early childhood education and other topics, visit the MSU Extension website.