Beat cabin fever with physical activity
Physical activitity is important for bodies of all ages, even in the winter.
When you start hearing "I'm bored" or "there's nothing to do," it's time to get active. Michigan State University Extension recommends that instead of watching a movie or playing video games, get your kids and yourself moving.
According to ChooseMyPlate.gov physical activity is important for all ages.
Age

Aerobic Physical Activity

Strengthening , Bone and Muscle Building

Adults (18-24)

30 minutes/3 days per week

30 minutes/ 2 days per week

Children and Adolescents (6-17)

60 minutes per day

Bone - building/3 days per week

Muscle - building/3 days per week

Young Children (2-5)

Active physical play several times per day

Active physical play several times per day
Moderate physical activity for adults includes walking, jogging and swimming. Strengthening activities, for adults, would include push-ups, sit-ups and lifting weights. For children and adolescents, 60 minutes of activity is recommended per day. Children should engage in vigorously intense activity three days of the week.
Bone strengthening activities like jumping and muscle-stretching activities (such as climbing) should each be included at least three days per week. Young children do not have a specific recommendation for the number of minutes of activity per day. Rather, they should get physical activity several times throughout the day including running, jumping, playing catch or climbing. Keep in mind that all activities should be appropriate based on age and physical abilities.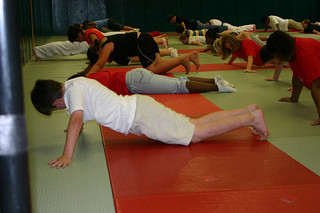 If the weather is bad outside, turn on some music and have a dance party. Find an exercise video that the whole family can do. If you have enough space you can build an indoor obstacle course to jump, climb or crawl through.
Indoor fun can be found at a local bowling alley, roller skating rink or ice skating rink. Some local gyms may offer open hours so you can walk an indoor track or get a group together for a game or basketball.
When the snow falls, bundle up and take the family to play outside. Building snowmen, sledding and snow angels are a few ideas. Footprints in light snow can encourage a trek outside, maybe to see what other tracks can be found.
It's important to get up and moving. It doesn't take a lot of money, can be done in doors and out and is so important for bodies of all ages.
Did you find this article useful?
---