Bed bugs return to Michigan
Increased human travel and reduced use of pesticides result in resurgence of the pest.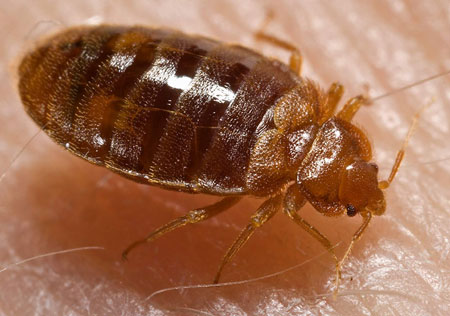 To address the recent bed bug issue, Michigan State University Extension is partnering with the Michigan Department of Community Health to develop and distribute information and resources to Michigan residents. Rapid spread of bed bug infestations is a result of bed bugs' ability to travel so easily.
"For decades, these tiny pests were almost non-existent in our state, thanks to improved living standards and the widespread use of insecticides," said MSU Extension educator Cathy Newkirk. "Today, however, they have made a dramatic comeback. Bed bugs have developed resistance to many widely used pesticides. Couple this with increased travel and the transient nature of many segments of the population, and we have the perfect formula for the rapid spread of infestations."
Newkirk explained that bed bugs can be found in any setting and any type of space. Because of their ability to hide, they are difficult to control. People do not notice they are in an infested location and, once established, these bugs can quickly travel, either on their own or as hitchhikers on people's clothing or belongings.
"They can be found in shelters, hotels, dorm rooms, hospitals, schools, apartments and homes. Bed bugs will infest any human dwelling, from the most cramped student apartment to the most luxurious five-star hotel," Newkirk said.
Bed bugs do not transmit contagious diseases, but red, itchy swelling is seen at the sight of the bite. Young children and older adults who live in homes infested with bed bugs may suffer from anemia. Studies have shown that allergens emitted in bed bug environments can cause reactions in people with asthma; repeated exposure can lead to more severe localized or generalized allergic reactions.
"Bed bugs are difficult to control because they are so skilled at hiding. The good news in all of this is that bed bugs do not carry disease," Newkirk said.
For information on how to prevent or treat bed bug infestations, visit the Michigan Department of Community Health website, www.michigan.gov/bedbugs.
Did you find this article useful?
---