Beehives and butterflies: New MSU student pollinator projects
Michigan State University students bringing attention and education about pollinators with projects around Bailey Hall.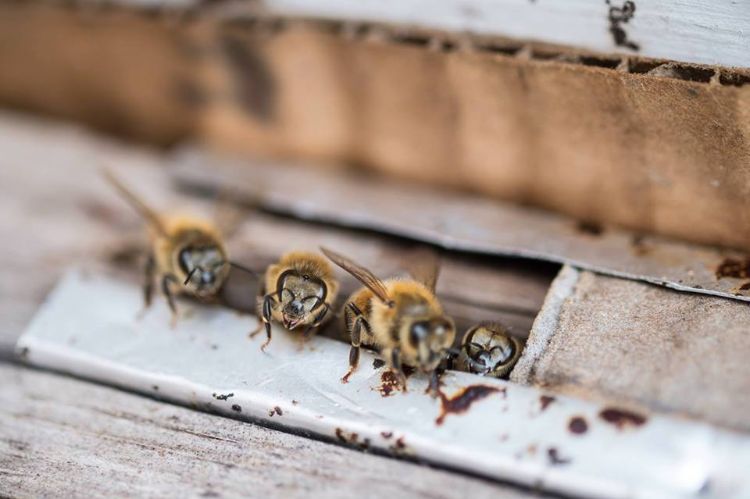 Pollinators are essential to our food production and natural ecosystems, but many people in the general public, including students and visitors to the Michigan State University campus are not aware of their important roles. MSU undergrads have taken the lead on two new projects to show how pollinators and pollinator education can be integrated into campus life.
Rooftop bees at Bailey Hall
On April 6, 2015, two honey bee colonies were moved onto the southeast side of the Bailey GREENroof, providing pollinators and making history as this was the first time a honey bee colony was placed on the roof of a residence hall. The hives are visible to residents and visitors to the Bailey Greenhouse and Urban Farm, serving as a reminder of the importance of pollinators in all food production systems – even campus ones!
This project was initially funded by the MSU Office of Campus Sustainability Be Spartan Green Grant and is a collaboration between students in the RISE program (Residential Initiative on the Study of the Environment) and the Michigan Pollinator Initiative at MSU. The program is a great campus and community collaboration. RISE students Alexis Hinson and Joe Fox worked to get the bees installed and the project funded; Laurie Thorp, Heather Shea Gasser and Matt Raven provide RISE program guidance; Walter Pett, Meghan Milbrath, Zachary Huang and Gabriel Ording provide support from the MSU Entomology Department; and MSU Residential Education and Housing Services (REHS) will assure student safety throughout the project.
Visitors and residents will have a chance to learn about the importance of honey bees, and MSU students will learn about their management and care. Members of the local beekeeping club, the Center of Michigan Beekeeping Club (COMB), will provide honey bee mentorship and will work with the Bailey Bee team to keep the colonies thriving. To become involved with the Bee Team, visit the MSU Bee Club Facebook page or contact Sierra Barfield at barfield@msu.edu. To follow the colonies and to see updates about the bees, check out the Bailey Bee Team website.
Butterfly gardens outside Bailey Hall
MSU students Kera Howell, Loryn Baughman, Eric Macciomei, Patrick Walters and Mike Ewing are installing a butterfly garden as a legacy project for class CSUS 200, Introduction to Sustainability, taught by Matt Raven. The garden is going to be located outside of Bailey Hall, right outside of the greenhouse. Funded by a grant through Laurie Thorp of the RISE program, this garden will provide a space for Monarch butterflies and a visual demonstration on how a pollinator garden can be installed anywhere.
The garden will have plants that were chosen with Monarch butterflies in mind, but it will support other butterflies and pollinators, providing a source of food and habitat where they can lay eggs. Students planned an initial planting day for Earth Day, April 22, but had to move the date to Sunday, April 26 due to weather. The garden is now planted and has been officially registered as a Monarch Waystation through The Monarch Watch Foundation. For more information on the project, email Kera Howell at howellk8@msu.edu.
River walkway truly green space
The walkway along the Red Cedar River is a high traffic area, a perfect place for education about pollinators and ecosystem health. Students in the RISE program designed a "Truly Green Space" in this area, choosing native plants to restore an area near Bailey Hall. This project was funded through a student grant through the MSU Office of Campus Sustainability, with matching funds from MSU Residential and Hospitality Services. Students worked with Deb Kinney and Tressa Wahl from MSU Infrastructure Planning and Facilities to design the space. Plants were selected on their ability to attract pollinators. In September 2014, over 20 students put in 300 plugs of milkweed, asters, penstemon and more from Wild Type Nursery in Mason, Michigan. Stop by to see the space, and see if you can identify any pollinators that appear during the first growing season.
If you would like to support the ongoing maintenance and care of the rooftop apiary, or to help expand and care for the butterfly garden, please contact Laurie Thorp at thorpl@msu.edu or 517-432-4944 to make a donation.