Beginning Farmers have plenty to glean from Great Lakes EXPO
Join thousands of fellow farmers in Grand Rapids December 5-7, 2023.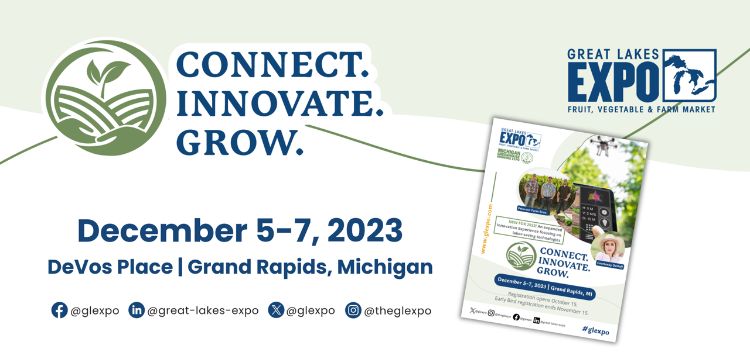 The Great Lakes Fruit, Vegetable & Farm Market EXPO and Michigan Greenhouse Growers EXPO (GLEXPO) is an annual event that draws thousands of farmers from Michigan and beyond to Grand Rapids, Michigan each December. In 2023, GLEXPO will be held December 5-7. Michigan State University Extension educators are heavily involved in coordinating the educational offerings for this event. More information about the GLEXPO and registration can be found here.
With over 70 educational sessions to choose from, the event is rich in learning opportunities. Depending on what you grow, there are a variety of sessions specific to growing fruits, vegetables, cut flowers and greenhouse plants. There are also some general interest and farm marketing sessions, as well as beginning farmer-specific programs. The following are just some of the many educational options that may be of interest to beginning farmers each day:
Tuesday, December 5
Wednesday, December 6
9:00-11:00am – Beginning Farmer 2

This session has a number of speakers covering topics of interest to beginners:

2:00-4:00pm – Labor 2: Forming and Caring for Effective Farm Worker Teams

This session will feature a great number of speakers from a number of different organizations. If you have employees or are thinking about hiring now or in the future, this session could be quite valuable in learning how to build and manage a great team.

4:00-5:30pm – Meet the Buyers Networking Reception

This will be an informal event to meet and build relationships with produce buyers from across the Great Lakes region. The event will also include a resource area where growers can learn more about current and new opportunities to support their farm businesses through USDA and state programs.
Thursday, December 7
9:00-11:00am – Farm Market Workshop 1: Improving Customer and Employee Experience at the Farm through Cultural Competence

This session will feature speakers from a variety of different farm models offering perspectives on building and implementing cultural competence on your farm. Naim Edwards and Stathis Pauls from the MSU-Detroit Partnership for Food, Learning and Innovation will share about community agriculture in Detroit. Ginger Vallejo and Kevin Benson from Michigan Department of Labor and Opportunity will talk about a cross-cultural approach to working with foreign labor. George McManus from Piggott's Farm Market and Bakery will share experiences in cultural competence from his farm market and bakery.

10:30-12:00pm – Organic and Small-Scale Marketing

This session will open with a discussion on best practices for U-pick farm operations led by Kim Bayer of Slow Farm. The second part of this session will feature a panel on marketing for community connections featuring three urban farmers: Clarence Price of Pingree Farms in Detroit, Egypt Mapes-Krohn of Allen Neighborhood Center in Lansing and Julius Buzzard from Growing Hope in Ypsilanti.
These are just a handful of the wide variety of educational sessions available at the Great Lakes Fruit, Vegetable & Farm Market EXPO. View the full educational program at glexpo.com/programming-2023.